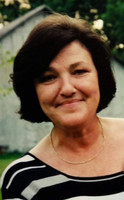 Barbara Ann Jenkins
Barbara A Jenkins, 72, of Ridgeland, passed away on February 8, 2018, at St Dominic Hospital in Jackson, MS. Barbara was born on December 15, 1945, to Eston and Hazel (Copas) Bartley of Campbellsville, KY. Barbara worked as a District Manager for AIG for over 20 years.

Barbara is survived by Daughters, Angela F Jenkins of Ridgeland, Amanda E Parker (Richard) of Madison; Sister, Mary N Bland (Bill) of Shepherdsville, KY; and Two Grandchildren, Garrison and Reagan Parker along with many nieces and nephews.

She was preceded in death by her Husband of 53 years, William B Jenkins; Father, Eston Bartley; Mother, Hazel Bartley; Sister, Nina Ruth Quinn and Brother, Edmond T Bartley.

Visitation will be held Monday from 5-7pm at Natchez Trace Funeral Home. Funeral Services will be held Tuesday at 1pm at Natchez Trace Funeral Home with visitation one hour prior. Interment will follow at Natchez Trace Memorial Park Cemetery.

In lieu of flowers, donations may be made to the American Heart Assoc (Am Heart Assoc) and the American Diabetes Foundation (Am Diabetes Link). Online condolences can be given at www.NatchezTraceFuneralHome.com.