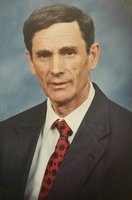 James "Jim" Vlach
James "Jim" Vlach
Madison, MS
Mr. James "Jim" Vlach, 84, of Madison, MS, was called home to be with the Lord on February 26, 2018 in Jackson, MS. A Celebration of Life Service will be scheduled later by the family.
Mr. Jim was born on December 3, 1933 to the Late Anthony & Loretta Vlach in Hanover, Kansas. Jim was a faithful husband, loving father to his adopted son and a diligent server to his church of the Catholic faith. He honored his country by serving in the Army during the Vietnam war. Jim was a small business owner for most of the latter part of his life which he dedicated much of his time and enjoyed many wonderful relationships with his clients and business partners. Jim was a lover of sports in which he participated in during his college years, coached during his son's early school years and an avid fan later in life."
Mr. Jim is preceded in passing by his parents Anthony & Loretta Vlach. One brother, Richard Vlach.
He is survived by his loving wife of 40 years Mrs. Coleen Vlach of Madison, MS., one son Ashley Vlach of Jackson, MS., two brothers, Bill & his wife Wilma Vlach in Largo, TX, Tony & his wife Pat Vlach in Leland, NC, three sisters, Mary Carol & and her husband Erroll Seville in Topeka, KS, Karen & and her husband Richard Owens in Spring Hill, KS, Kathy Jones in Houston, TX, and one special grandson, Parker Vlach of Jackson, MS.