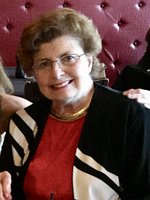 Marla Posey Wills
Marla Posey Wills
Oxford, MS
Marla Posey Wills 74, of Oxford, MS was welcomed by our Lord and Savior Jesus Christ in Heaven on March 3, 2018. Visitation will be held Tuesday March 06, 2018 from 10-11:00 a.m. at Natchez Trace Funeral Home in Madison, MS. With a Celebration of Life Service following at 11:00 a.m. at Natchez Trace Funeral Home in Madison, MS.
Mrs. Marla was born August 10, 1943 to Wesley and Mary Edith Posey in McComb, MS. Where she grew up and, went to school. She attended and, graduated from MS University for Women with a B.S. Degree in Elementary Education and earned her master's Degree in Elementary Education from the University of MS. She taught five years at Beth Israel Preschool in Jackson, and many years with the Jackson Public School. She is a member of the Oxford University Methodist Church in Oxford, MS. Marla was a good woman who had a passion for a child's future. She inspired so many, and instilled good moral Christian values in children. More than anything else Marla was a great role model and, a good mother and grandmother who was steadfast in her faith and in her love for family and friends.
She is preceded in passing by her husband of 44 years the Late Jack Wills, her parents, Wesley & Mary Edith Posey.
She is survived by her one loving daughter, Jennifer Wills Erwin of Oxford, MS., one sister, Carol Posey of Pensacola, FL., two brothers, Joe Posey of Yorktown, VA., and Bob Posey of Oxford, MS., two grandsons, Clayton Wesley & Park Thomas Erwin of Oxford, MS.
Bro. Warren Black & Eddie Rester will officiate the service.