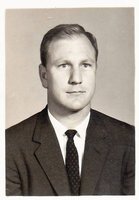 Thad Hawkins Jr.
Thad Hawkins, Jr. – architect, husband, father, grandfather, great-grandfather and friend – died at Canon Hospice in Gulfport on Friday, March 16, 2018, at the age of 86. A visitation for family and friends will be held on Tuesday, March 20, from 10 a.m. to noon at Natchez Trace Funeral Home in Madison, followed by a family memorial.
Thad was born on December 14, 1931, to the late Thad Hawkins, Sr. and Johnnye Hawkins. A native of Dermott, Arkansas, he spent most of his adult life in Jackson, Mississippi. He was a founding member of JH&H Architects and Engineers and served as chairman of the board for Mediplex Nursing Home Company until his retirement. He was active in civic and church affairs, serving as chairman of the board of the Jackson YMCA and Southwest YMCA, chairman of the board for Youth for Christ and a board member of Young Life. He was also a longtime member of the Jackson Club.
Thad served as chairman of the deacons at First Baptist Church of Jackson and later at Colonial Heights Baptist Church of Jackson. He served for many years on the board of trustees for two Southern Baptists seminaries, Mid America Baptist Theological Seminary in Memphis, Tennessee, and Golden Gate Seminary in San Francisco, California.
Thad served his community quietly and modestly. He loved hunting and was an enthusiastic tennis player. He will be greatly missed by all who knew and loved him.
He is preceded in death by his parents and brother, John Edward Hawkins. He is survived by his wife of 59 years, Sarah Clinton Hawkins; his four sons, Steve (Linda), Scott, David, Rusty (Kerri); five grandchildren; and three great-grandchildren.
Memorials may be made to the Alzheimer's Association – Mississippi Chapter, 207 West Jackson Street, Suite 1, Ridgeland, Mississippi 39157.