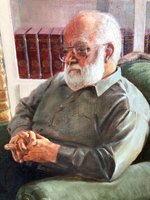 Milton "BUD" Matthews
Dr. Milton Duane "Bud" Matthews passed from this life on March 16, 2018 at St. Catherine's Village in Madison after a brief illness. Milton was born April 3, 1938 and was raised in Union, MS. He received degrees from East Central Community College, University of Southern Mississippi, Mississippi College, and a Ph.D from USM.
His career in education began in Neshoba County in 1960. He became a Title I, ESEA Coordinator in 1968. He moved to the Title I office of the Mississippi Department of Education in 1971. He eventually became the Director of the Office of Compensatory Education giving direction to a dedicated staff and overseeing a budget of $125,000,000. It was a joy to work with him. After 36 years devoted to education, Bud retired from Title I in 1996. Following his retirement, he served as a consultant in education for many years. He confessed to "failing retirement" at least three times. He finally retired in 2016 at the age of 78.
He loved to travel, having visited every state in the U.S., several foreign countries, and every continent, save one. Milton met people everywhere he went and on more than one occasion a lifelong friendship was developed from a casual encounter on a trip. He loved to share a meal, good conversation, and a word of encouragement. He enjoyed the arts, music, reading, floral arranging, photography, and cooking for others.
Milton served as a volunteer with the International Ballet and the Mississippi Commission for International Cultural Exchange exhibits including: Splendors of Versailles, Palaces of St. Petersburg, Baroque Dresden, and The Majesty of Spain.
He read to the handicapped in the Radio Reading Service for 17 years. He loved to dress as Santa and read to children at area schools and libraries at Christmas.
Milton was kind, generous, selfless, and had a deep and abiding faith. His life was characterized by peace and joy.
Milton was preceded in death by his parents Hugh W. and Pauline Germany Matthews and brother-in-law Marcus Gordon. He is survived by his sister Polly Gordon and her children: Craig Gordon (Brenda), Teresa Gordon Parker, Darin Gordon (Polly Renee), and Brian Gordon, and great nieces Lana Elizabeth Parker and Lara Kelle Parker.
In lieu of flowers donations can be made to your favorite charity or medical research.
Milton would want to say a word of thanks to everyone who worked at St. Catherine's Village. He received marvelous care and service from all who worked there: from the men who greeted him at the gate, to the ladies who served him in the dining areas, and those who cared for him in Sienna.
Funeral services will be held in Ridgeland and Union, MS on Wednesday, March 21.
Visitation at Milton's church, Olde Towne Community Church, 220 W Ridgeland Ave, Ridgeland, MS 39157, will begin at 10:00 am. The funeral service will begin at 11:00 am.
A second service will be held at Bluff Springs Church of God in Union at 3:00 pm. Burial will follow at City Cemetery in Union.