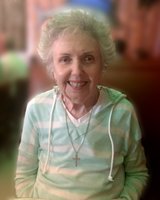 Wanda Brieger
Ms. Wanda Davis Brieger
Ridgeland, MS
Wanda Brieger 77, of Ridgeland, MS was called home to be with the Lord on April 02, 2018. A Celebration of Life Service will be held Thursday, April 12, 2018 at 9:30 A.M. in the chapel at Brookdale Assisted Living 410 Orchard Park in Ridgeland, MS
Wanda was born March 30, 1941 in Meridian, MS to Mr. Martin M. & Mrs. Billie Lee Davis. She grew up in Meridian where she loved school and was an excellent student.
Wanda was an avid reader and a lover of golf and travel. She enjoyed spending time with her family, which included organizing monthly lunches at Primos, and enjoyed lunching and shopping with her best friend Connie. In her younger years, a majority of her friends and family would gather on the weekends at Joyner's Garage & Pool Hall a family-oriented place in Collinsville where Wanda first met Alan. Later in life in the work force she was a Director for the National Development & Construction Company Inc. She was greatly involved in her church where she also played the piano for many years in Meridian. She was a member of Crossgates United Methodist church. Most of all Wanda had a simple faith in Jesus and was a caring and loving person to others who would help anyone in need. She wouldn't mind speaking her mind if you asked her opinion. Yet, she was honest, caring and thoughtful to all who knew her. She would go out of her way to make people feel special such as sending cards to everyone. That was Wanda, and she will be dearly missed.
Her loving parents, Martin M.& Billie Lee Davis, one son, Randall Alan, one brother-in-law, Ken Courtney, and one niece, Kimberly Courtney Michel, precede her in passing.
Wanda is survived by her loving daughter, Tanya Brieger of Ridgeland, MS., two sisters, Hilda Courtney of Pearl, MS., Nelda Humphries and her husband Ed of Columbus, MS., two brothers Larry Davis and his wife Renae of Brandon, MS., and Martin Davis Jr. and his wife Sara of Brandon, MS., Along with a host of loving nieces and nephews.
Rev. Earl Adams will officiate the service. In lieu of flowers, the family requests that donations be made to the National Alliance on Mental Illness Mississippi.