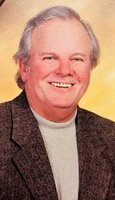 Perry Buckner Green
Perry Buckner Green
Terry, MS
Mr. Perry Buckner Green 71, of Terry, MS left his earthly home while surrounded by his family on April 03, 2018. A visitation honoring Perry's life will be held at Natchez Trace Funeral Home in Madison, MS on Friday April 6, 2018 from 1-2 P.M. A Celebration of Life service with Military Honors will follow at 2:00 P.M.
Perry was born December 05, 1946 in Jackson, MS to Mr. & Mrs. Albert & Nennie Green. He grew up in Jackson where he attended Provine High School and graduated with the Class of 1965. After high school he enrolled in the United States Air Force and risked his life for the freedom of his family and our country. He served from 1965-1968 and was honorably discharged as a Sergeant. After serving our country he enrolled in Hinds Junior College while working with BellSouth. He would end up devoting thirty-three and half years with Bell South and retiring as a Manager-Network Engineering. He also served as Telephone Pioneer President for some years. In his spare he was an avid hunter and fisherman. He and his nephew Tim McDaniel went on many fishing adventures Tim recalled, "These were some of the best years of our lives". He shared stories of fishing pranks they would pull on each other and making memories with Perry to last a lifetime. It was one Perry's joys of his life. Another great joy in his life was being Santa at Blair E. Batson Children's Hospital with help from his loving granddaughter Elf, Jasmine. They would touch these children's hearts while making memories that she will cherish forever. One of the greatest joy in Perry's life was being called "Pappaw". He loved those grandchildren with his whole heart. He was always there for them throughout there whole life and it was blessing to him to be able to watch them grow up. Perry was a man of integrity, and man of honor. He was a role model with qualities and traits that you rarely find now-a-days.
He is preceded in passing by his parents, Albert E. Green and Nennie McCarey Green, and one brother James "Jimmy" Green.
He is survived by his loving wife and best friend of thirty-eight years Nora McDaniel Green of Terry, MS., one son Kevin McQuirter (Cher) of St. Joseph, MO., one sister Kay Green Williams (Darral) of Jackson, MS., two grandchildren, Jasmine and Jared McQuirter of Ellisville, MS., along with a host of loving nieces and nephews.
Deacon Cathy Halford will officiate the service.
The family wishes in Lieu of Flowers donations be made to The Boys and Girls Club at 1450 W Capitol St. Jackson, MS 39203.