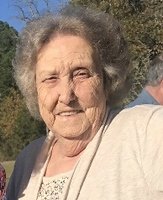 Patricia Ann Hill
Patricia Ann Perry Hill, 76, of Madison, went to her heavenly home while surrounded by family, on April 5, 2018.
She was born on June 13, 1941 to Lewis and Thelma Beckham Perry in Carthage, MS. She moved to Madison 50 years ago and retired as an assembly worker at Parker Hannifin. She attended church at Lifeline in Rankin County and enjoyed spending time with her family, especially the grandchildren.
Pat is survived by her sons, Billy Randall Hill (Brenda) of Dekalb, MS and Ronald D. Hill of Madison; a sister, Lana Perry of Madison; a brother, Kimbal Perry (Myra) of Madison; two granddaughters, Jennifer Hill and Jessica Hill and two great grandchildren, Brinley Zimmerman and Braxton Rushing.
She was preceded in death by father, Lewis Perry and mother, Thelma Beckham Perry.
A graveside service will be conducted Saturday April 7, 2018 at 2:00pm in the Pearl Hill Cemetery in Carthage, MS.