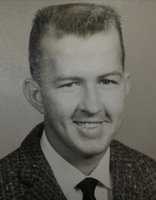 Donald "Don" Newman
Donald Lee Newman
Ridgeland, MS
Donald "Don" Newman, 82, of Ridgeland, MS was called home to be with the Lord on April 06, 2018 while surrounded by his family at St. Dominic's Hospital. A visitation honoring Mr. Donald Lee Newman's life will be held Monday, April 09, 2018 from 10: 30 – 11:30 A.M. in Madison, MS at the Natchez Trace Funeral Home. A private family graveside service will follow.
Don was born November 23, 1935 in Crowley, LA to James & Sarah Newman. His family moved to Pensacola, FL where he graduated from Pensacola High School the Class of 1953. Don went on to graduate from University of Southern Mississippi with an accounting degree. He was retired from Illinois Central Railroad and the U.S. Department of HUD. He was a member of the Association of Government Accountants as well as the Retired Railroad Men's Club. He enjoyed spending hours working with his model trains and in his spare time, he was an antique bargain shopper who was always trying to find a good deal. Don enjoyed traveling with Mary especially when it involved NASCAR races. He was a family man who loved the Lord and was a member of the First Pentecostal Church in Byram, MS.
He is preceded in passing by his parents James and Sarah McKee Newman, daughter, Cynde Brown (Billy), son Donald Lee Newman Jr, and several siblings.
Don is survived by his loving wife and best friend of 62 years Mary Alice Dye Newman, daughters, Donna Sebren (Stance) of Madison, MS, Pam Newman of Ridgeland, MS, Kim McElroy (Tim) of Madison, MS, sisters, Estelle Christensen (Jim), Irene Hale, and Shirley Hill, and grandchildren, Ciegie Brown, Jonnah Walters (Calvin), Saysha Sebren, Eliza Sebren, Elijah McElroy, Ethan McElroy, Emery McElroy, and Ella McElroy, and four great grand-children, along with a host of nieces and nephews and fur babies Lucky and Spottie.
The family wants to thank the staff of the Nichols Center for the tender love and care as well as the staff of St. Dominic's Hospital specifically, Dr. Whitehurst, Dr. Reddy, and Dr. Evans.