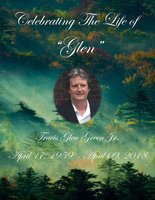 Travis Glen Green
Travis Glen Green Jr
Ridgeland, MS
Travis "Glen" Green Jr 58, of Ridgeland, MS was called home to be with the Lord on April 09, 2018 at his home while surrounded by his family. A visitation honoring Travis will be held Saturday, April 14, 2018 from 1-2 P.M. at Natchez Trace Funeral Home in Madison, MS. A Celebration of Life Service will follow at 2:00 P.M. in Natchez Trace Funeral Home.
Glen was born on April 17, 1959 in Yazoo City, MS to Travis & Frances Green. He grew up in the Mississippi Delta. He attended and graduated from Tri County Academy in Flora, MS. Travis held many positions while working for Warrior Entergy Service out of Texas such as Management & Sales for many years. In Glen's free time he loved gardening, and just the outdoors in general. He was an avid Red Raider Texas Tech Fan along with his children. Glen was a charismatic man who never lived to see a dull moment he seemed to find a way to fit a joke in anyway anywhere at any time. Most of all Glen was a family man who loved to spend time he had with his family and his children.
He is preceded in passing by his father, Travis Glen Green Sr., one sister, Jessie Green Brooks. His former wife, Dana Michele Cornett Green.
He is survived by his loving wife Mrs. Jo Ann Harris Green of Ridgeland, MS., Mother, Frances Ragland Lloyd and her husband Jack of Inverness, MS., two daughters, Sommer Michele Green Dozier and her husband Kalen of Lubbock, TX., and Macye Raven Jones of Cleveland, MS., two sons, Justin Kyle Green and his wife Kasey of Burleson, TX., Jon Travis Green and his wife Mandy of Pearland, TX., two sisters, Pam Kiker Kattawar in Southhaven, MS and Cindy Green Smith of Louise, MS., four brothers, Dean Wayne Kiker of Belzoni, MS., Kenneth Scott Kiker of Belzoni, MS., Jim Kiker Jr. of Searcy, AR., Bo Green of Byrum, MS., three grand-children., Abbie Michele Green of San Antonio, TX., Aubrey Rhea Green of Pearland, TX., and Camryn Michele Green of Pearland, TX., Grandparents, Hubert & Gertrude Ragland of Satartia, MS., and Mr. & Mrs. James E Green of Louise , MS. Along with 4 loving nieces and nephews.