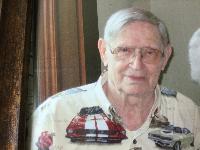 Henry Freeman "Hank" Baley III
Henry "Hank" Freeman Baley III, 92 of Madison, MS was called home to be with the Lord on June 17, 2017. Visitation will be Tuesday, June 20, 2017 from 5-7p.m. at Natchez Trace Funeral Home. Funeral Service will be Wednesday, June 21, 2017 at 10:00 a.m. at Natchez Trace Funeral Home. Graveside will follow at Natchez Trace Memorial Park Cemetery.
Mr. Baley was born on March 15, 1925 to the late Henry Freeman Baley II & the late Emma Lucile Bradford Baley. He attended and graduated from Central High School in Jackson, MS. Later in life Henry attended and graduated from Palomar Community College with an Associate's Degree. Mr. Baley went to work as an electronic technician for the aerospace industry. Hank was the president of the Vista Twirlers Square Dance Club. He was also the past president of the United Methodist Men's Club in Vista, CA. After moving to Madison, MS he became a member of The Lions Club of Madison. In 2006 he was voted "Lion of the Year". Hank was a published photographer who also enjoyed hobbies such as, square dancing, traveling, and cars. Hank was a family man who leaves a Legacy behind of faith, love, and integrity.
Hank is preceded in death by his parents Henry & Lucile Baley, 2 brother in laws, Vincent Ford and Fred Dear.
He is survived by his loving wife of 54 years Margaret Smith Baley of Madison, MS.,2 sons, Henry "Buck" Freeman Baley and his wife Nancy of Cape Cod, Mass., Stephen Eugene Baley and his wife Susan of Madison, MS., 2 sisters, Catherine Ann Ford of Houston, TX., Elethia Baley Dear of Jackson, MS., 3 grandchildren, Stephen Caleb Baley of Madison, MS., Candace Hoagland and her husband David of Alexandria, VA., Scott Baley and his wife April of Fredericksburg, VA., 3 great- grandchildren, Quinten Hoagland, Annabella Hoagland, and Jack Baley.
Pastor. Berry Males will officiate the service.