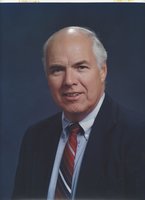 Frank T. Garletts
~~Frank Thomas Garletts was born on February 22, 1936 in New York City. At the age of 5 his family moved to Stratford, CT. After graduating high school, he joined the United States Navy serving for 3 years. He returned home with ring in hand and married his loving wife Sylvia Clark in 1957. Frank received an Associate's Degree in engineering in 1966 and was employed at Winchester and Colt Firearms in CT and Fairbanks Morse Scale in Vermont. He was later employed by Mohasco Industries in Amsterdam, New York later transferring to Greenville, MS to work as plant engineer for Greenville Mill.
Frank always wanted to be his own boss which lead to the purchase of the Tune Up Clinic in Greenville followed by 4 Midas Locations in the Jackson area. In 1992 Frank and Sylvia decided to move to Madison where his family has flourished and grown.
Frank loved spending time with his family, traveling to all 50 states, being an active member of a local RV club, woodworking and model railroading. Frank was a member of the Optimist Club of Greenville and the North Jackson Lions Club. He was active in leading Boy Scouts and was an active member of his local churches, serving as a Deacon, Sunday School Teacher and assisting with the church youth.
Frank is survived by his wife of 59 years, Sylvia Clark Garletts; his three children, Frank A Garletts(Tammie), Clark Garletts(Stacy) and Kathy Armstrong(Rafe) of Grenada, MS; eight grandchildren, Michael(Anna), Amy Temple(Andrew), Brandon(Rachel), Alex McAdams(Peyton), Zack Armstrong, Parker, Julia, Dwight and Frances Garletts and 10 great grandchildren.
Visitation will be Friday at Natchez Trace Funeral Home from 6:00-8:00pm and again one hour prior to the 2:00pm funeral service at First Baptist Church in Madison on Saturday. Interment will be private.
In lieu of flowers, memorials in his name may be made to Madison First Baptist Church 2100 Main St. Madison, MS 39110.