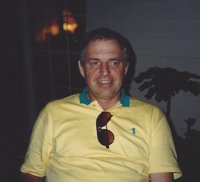 Roy M. "Roy Mac" Weissinger
Roy M. Weissinger (Roy Mac), 77, passed away on July 2, 2017 at this home surrounded by his loved ones. He was born in Louise, MS on Juley 13, 1939, to the late Herbert Weissinger and Pauline Hull Weissinger. In addition to his parents, Roy is preceded in death by a brother, Herbert ( Bud) Weissinger, Jr.
Roy was a graduate of Mississippi State Univertsity and retired from the USDA Office of Inspector General. He was an avid outdoorsman and gifted craftsman, but his greatest joy was spending time with his beloved family and friends.
Roy is survived by his wife of 36 years, Bettye; sons, Todd Weissinger and his wife Kelly of Brandon, MS, Tabor Weissinger of Jackson, MS, and Drew Weissinger of Cleveland, MS., grandchildren, Tanner, Anna, Georgia, Nathan, Will, Connor and Molly Weissinger; great-grandchild, Paisley Weissinger; sister, Linda Barrack of Hattiesburg, MS, brother, Bill Weissinger of Louise, MS, and a niece and several nephews.
Visitation will be held at Natchez Trace Funeral Home in Madison, MS, on Wednesday July 5, 2017 at 1:30p.m. followed by a funeral service at 2:30p.m. Interment will be at Natchez Trace Memorial Park Cemetery after funeral service.
Memorials are suggested to Kare in Home Health Services, 497 Keywood Circle, Suite B, Flowood, MS 39232 or Mustard Seed Faith Foundation of India, P.O. Box 2013, Jackson, MS 39215 (www. Msffinda. Org).
Special thanks is extended to caregivers Jo Hanberry, Betty Jackson and Maria Johnson; Sta-Home Health Care, Madison; and Kare in Home Hospice, Flowood, MS.