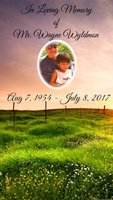 Wayne Wyldmon
Wayne Wyldmon
Byram, MS
Wayne Wyldmon 62, a lifelong resident of Byram passed away on July 8, 2017. Visitation will take place Thursday, July 13, 2017, between 12-1 p.m. at Natchez Trace Funeral Home. A Memorial Service will begin Thursday at 1:00 p.m. at Natchez Trace Funeral Home.
Wayne was born August 07, 1954 in Mississippi, to the late William Ernest & Elsie Wyldmon. He grew up in Clinton where he attended and graduated from Clinton High School. He began his career with BellSouth Telephone Co. on 1/12/1978 and retired on 11/28/2016 with 38 years, 10 months, 17 days of distinguished service. He held many positions during his career with AT&T and retired as a Senior Specialist, Equipment Design Engineer in Jackson, MS. Wayne was not only a Co-worker, Subject Matter Expert, Voice Activated Instruction Manual, and general Safety Net, he was their friend.
Wayne was an avid NASCAR fan who loved Alabama Football. You could catch Wayne on Saturday's yelling "Roll Tide" after a big Bama win. He enjoyed spending time with family and friends. He will be dearly missed.
He is preceded in by his loving wife Diane Pigford Wyldmon, and his parents, William Ernest & Elsie Wyldmon.
He is survived by his only son, Zach Wyldmon, his niece, Shonda Tapia of Byram, MS, niece, Alyssa Tapia of Ridgeland, MS, nephew, Matthew Tapia of Ridgeland, MS.
In Lieu of flowers the family wishes all donations to be made to a charity of your choice.