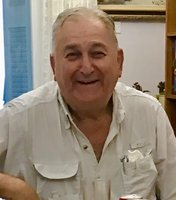 Costas Pavlou
Costas E. Pavlou, 76, of Jackson, MS, was called home to be with the Lord on July 17, 2017 in Greece.
Visitation will be Monday, July 31, 2017 from 6-8 p.m. at Natchez Trace Funeral Home located at 759 hwy 51 in Madison, MS. Funeral service will be held at St. Peter Antiochian Orthodox Church on Tuesday, August 1, 2017 at 10:30a.m. located at 180 St. Augustine Dr. in Madison, MS.
Mr. Pavlou was born in Hydra, Greece on November 15, 1941 to the late Eleftherios & Victoria Pavlou. He grew up and attended school in Greece. Costas was only 19 years old when he decided to move to America to provide a bright future for not only himself, but for his family to be. He used his hardworking experience as a vehicle, to give him an opportunity to work for the Iron Workers Union where he would acquire the name "The Greek". Upon his arrival to America, he joined the Order of American Hellenic Educational Progressive Association(AHEPA). It is a group that brings the ideals of ancient Greece, which includes philanthropy, education, civic responsibility and family, and individual excellence to the community. Costas joined in 1967 and is currently a 50year member. Mr. Pavlou holds the title as "Supreme Governor" nationally and "District Governor" for the southeast. He was deeply involved in his church; especially cooking at any events that the church held. Mr. Pavlou was also known for "Costas Place"- a food and beverage tent that he set up for over 30 years at the Mississippi State fair. Costas was a man of integrity who never met a stranger. His favorite past time was watching Ole Miss football with family and friends. More than anything else Costas, or "PaPou", as his grandchildren called him absolutely cherished them with all his heart.
Mr. Pavlou was preceded in passing by his parents, Eleftherios & Victoria Poulette Pavlou, two brothers, Spiro Pavlou and Koulie Pavlou.
He is survived by his loving daughter, Victoria Pavlou Laird and her husband Alfred Jr. of Pearl, MS., one sister, Mitsa Sigalla of Greece., three brothers, Dimitri Pavlou of Greece, George Pavlou of Greece, and Anthony Pavlou of Greece. Two grandchildren, Macye and Harper Laird of Pearl, MS. Along with a host of loving nieces and nephews.