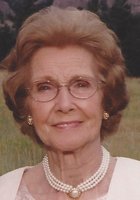 Faith P. Martin
~Faith P. Martin
Jackson
On September 10, 2017, Mrs. Faith Martin ("Mimi") of Jackson, passed quietly in her sleep from her family that will miss her so to her heavenly home. Mimi had spent the last sixty eight years with E.B. Martin, her husband and devoted caretaker for the past six years of her life.
She was born in Montgomery County to Nancy and Emmett Palmertree on March 5, 1930, the third of nine children. She graduated Kilmichael High School in 1947 and later, after marriage and children, attended Mississippi College for her bachelor's (1967) and master's (1974) in education and JSU (1976) for her education specialist degree. Mrs. Martin taught over twenty years at Johnson Elementary School, fourth grade, in the Jackson Public Schools. Her love for those she taught was evident to them. They recognized her caring and interest in them and often returned to update her on their progress, through high school and after.

Mrs. Martin was predeceased by her parents, two brothers (Eugene and Everette Palmertree) and two sisters (Bonnie Steen, Sister and Wilma Clark).
She is survived by her husband E.B. Martin, one sister, Dolly Burle of Greenville, MS; three brothers, Dr. Duran Palmertree, Mr. Thomas Wade Palmertree (Laverne) and Basil Palmertree (Peggy) all of Poplar Creek, MS; many nieces and nephews; three children, E.B. Martin, Jr. and Sharon Martin (Bobby Graham) of Jackson, MS and Pam Murphy of Westminster, CO. She has nine grandchildren (who adored their "Mimi"), including Jacob Graham (Elise) of Hattiesburg, MS, Aaron Graham of Jackson, MS, Caleb Graham of Denver, CO, Joshua Hogrewe (Sophia) of Denver, CO, Ashley Eckert (Paul) of Westminster, CO, Rachel Murphy of Westminster, CO, E.B. Martin, III, Joseph Martin and Tinsley Martin of Jackson, MS; along with eight great-grandchildren. Her grandchildren and great-grandchildren held her heart.
Visitation will be held Wednesday, September 13, 2017, 11:00 am - 1:00 pm at First Baptist Church, Jackson, in the chapel with funeral services to follow at 1:00pm. Following the funeral services, burial will be at Natchez Trace Memorial Park Cemetery.
In lieu of flowers, memorials in her name may be made to First Baptist Church of Jackson or Bethany Church of God in Poplar Creek, MS.
Online condolences can be given at www.natcheztracefuneralhome.com.