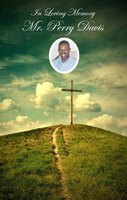 Perry E. Davis
Perry Earl Davis
Madison, MS
Perry Earl Davis, 61, of Madison, MS, made his transition from this life surrounded by family on September 15, 2017 to be with our Lord and Savior Jesus Christ after a battle with cancer. He was born on September 06, 1956 to Alfred "Pap" Davis and Flora Davis.
A Wake/Visitation will be Friday, September 22, 2017 at Natchez Trace Funeral Home in Madison, MS from 4-7 p.m. with an Omega service at 6:00p.m. A Celebration of Life service will be held Saturday, September 23, 2017 at 11:00a.m. at the Pleasant Green M. B. Church located at 3920 MS-43, Canton, MS.
While growing up he was a member of Ashland Missionary Baptist Church, and gave his life to Christ. While living in Germantown, Maryland he was a faithful member of Seneca Valley Baptist Church. Since moving back to Mississippi, he served as Deacon, Sunday school teacher and mentor at Mt. Zion M. B. Church and finally at Pleasant Green M. B. Church in Canton, MS.
Perry was born in Port Gibson, MS where he attended and graduated from Port Gibson High school in May of 1974. He set a track record for the two mile run and was a member of the Blue Knights. He graduated from Alcorn State University in 1978, with a Bachelor's of Science Degree in Animal Science. He also received his Masters Degree in Biblical Studies at MS Baptist Seminary and Bible College. Perry was the President of Mt. Zion Layman Ministry where he mentored to youth providing them guidance, leadership and structure. Perry started working for USDA in 1978 and retired in July of this year where he was the District Manager for the Jackson District Office. Later, he pledged and became an active member in the graduate chapter of Omega Psi Phi, Epsilon Kappa Kappa, of Madison County. Perry was an avid basketball fan who in his free time enjoyed spending time with his family and friends at high school games and cooking. Most of all Perry was a warrior for Christ, a loving husband, great father and mentor to all he knew.
He was preceded in death by his father Alfred "Pap" Davis. He is survived by his loving wife of 38 years, Mrs. Shirlean Davis and one daughter Ms. Shayla Davis. His mother Flora Davis, three brothers; Louis "P-Mike" Davis (Danielle) of Riverside, CA, Otis Lee Davis (Jenifer) of Madison, MS, and Kenneth Davis of Port Gibson, MS, two sisters; Jacqueline Davis- Slay (Denmark) of Woodbridge, VA, and Latonia Johnson (Cornelius) of Madison, MS, several nieces, nephews, aunts, uncles and a host of cousins, classmates, brothers, sisters, sons and daughters in Christ and dear friends who loved and adored him dearly. Perry Earl Davis was prepared man and prepared daily for his meeting with our Lord and he will be deeply missed.
We the family, want to express our deepest thanks to the staff of St. Dominic's Hospital in Jackson, MS, especially Dr. Guangzhi Qu and Dr. Reginald Martin and the staff at Hospice Ministries in Ridgeland, MS.
In Lieu of flowers, all contributions can be made to Hospice Ministries and Layman's of Pleasant Green M. B. Church.
Pastor. Otis Lee Davis will officiate the service.