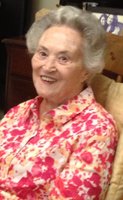 Ruth Carr
Ruth Bullard Carr 97, of Brandon, MS was called home to be with the Lord on September 24, 2017 surrounded by her family in Jackson, MS. Visitation will be Thursday, September 28, 2017 at St. Marks Methodist Church from 12-1:00P.M. with a Memorial Service beginning at 1:00P.M. at St. Marks Methodist Church located at 400 Grants Ferry Rd, Brandon, MS 39047. Graveside will be held Thursday, September 28, 2017 at 3:00 P.M. in Natchez Trace Memorial Gardens Cemetery at 759 Hwy 51 Madison, MS, 39110.
Ruth Bullard Carr was raised in a proud tradition of college-educated women. Born to Zenas Adolphus and Leila Commander Bullard in 1920, Ruth was a graduate of Houlka High School and a 1942 graduate of MSCW, with a degree in Home Economics. Following a brief stint as a teacher, she joined the war effort, making ordnance at the Gulf Ordnance bomb plant in Prairie, MS.
After the war, Ruth worked as a home economist for Mississippi Power and Light until her marriage to Archie Carr in 1948. Upon his graduation from Ole Miss Pharmacy School in 1951, the couple opened and operated Carr Drug Store in Madison, the town's first pharmacy, from 1954-1964. After they were divorced, Mrs. Carr worked in the Deans' offices at Belhaven College, and then as Executive Secretary at the Mississippi Museum of Art until her retirement.
An accomplished pianist and seamstress,
Mrs. Carr is the mother of four surviving children: Carol (Mrs. Jack) Uhlhorn of Bluffton, SC; Martha Simmons of Brandon, Rachel and her husband Dr. Isaac Aultman of Flowood; and Robert Carr and his wife Lisa of Arlington, TN.
Ruth was preceded in death by her parents, by her sister Carolyn (Mrs. Ted Russell of Brandon and Yazoo City), by her grandson Jack Uhlhorn, Jr., by her daughter-in-law Jan Carr and by her son-in-law Jack Uhlhorn. She leaves six granddaughters, Cydney Wallace, Jackie Burney, Shelley Hardy, Samantha Schultz, Emily Aultman, and Maleiya McEachern, two grandsons Will Aultman and Dan Aultman, along with six great grandchildren.
On behalf of the family we want to thank Barbara Thompson and Carole Bell for the love and compassion over the years they have showed Ruth and always being there for her.