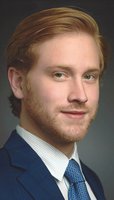 Devin Berlin
~~Austin Devin Berlin
February 18, 1993 – November 12, 2017
Austin Devin Berlin, beloved son, brother, nephew, uncle, and friend, departed this life on Sunday, November 12, 2017 at his residence in Madison, MS.
Devin was born February 18, 1993 to Janice and Paul Berlin. He was a graduate of St. Joseph Catholic School, Class of 2011. While attending St. Joe, Devin participated in musical theater and was well known by his classmates to have the biggest, warmest smile on campus.
Devin moved to Oxford, MS to pursue his degree in Accounting. While at Ole Miss, Devin was a member of the Phi Kappa Alpha fraternity. He recently received his real estate license and was employed at Terramark Real Estate where his colleagues knew him to be a quick and eager learner, and the best dressed man in the room.
Devin enjoyed hiking, rock climbing, and yoga. An avid reader, Devin would often spend hours exploring bookstores and meeting new people. He loved exploring a new idea and would invest hours and hours into researching questions across disciplines as wide-ranging as finance and molecular engineering to the human psyche or the unique properties of exotic hardwoods. Devin had a true zeal for living. He lived passionately and loved deeply.
Devin is preceded in death by his brother, Eric Hegwood; his grandfather, Murray Calhoun; and his grandparents, Betty Jean and P. C. Berlin.
He is survived by his parents, Janice and Paul Berlin of Madison, MS; his brother and sister-in-love, Will and Clare Berlin; his nephew, Silas William Francis; his maternal grandmother, Mary Calhoun; and a host of relatives and friends who will cherish the legacy of his memory.
Visitation will be held at Natchez Trace Funeral Home in Madison, MS from 2–5 PM on Saturday, November 18th followed by a funeral mass at St. Jude in Pearl, MS beginning at 2 PM on Sunday, November 19th. Father Lincoln Dall will officiate the service. Devin will be interred following the funeral mass at Natchez Trace Cemetery in Madison, MS.
In lieu of flowers, the family requests memorial donations are made in Devin's name to the National Council on Alcoholism and Drug Dependence (NCADD), 875 Northpark Dr, Ste. 600, Ridgeland, MS 39157, or to a charity of your choice in Devin's memory.
"No evil can happen to a good man, either in life or after death." — Plato