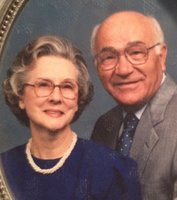 Alice B. Maritain
Alice Bowers Maritain, age 95, of Madison, Mississippi, died peacefully on Thursday, January 25, 2018 after a long and wonderful life. She was born to the late John Edward Bowers and Alice Hall Bowers on December 3, 1922.
Alice grew up in Crystal Springs, MS and graduated from Crystal Springs Consolidated High School. She proudly served during World War II in the United States Navy as part of the WAVES program (Women Accepted for Volunteer Emergency Service), a unit of the U.S. Naval Reserve. Alice was a Storekeeper, Second Class and was honorably discharged in 1945. Alice later worked for Magnolia Federal Savings & Loan as a branch manager, where she met the love of her life, Andrew D. Maritain. Alice and her husband moved to St. Catherine's Village in Madison in 1995 where Alice resided until her passing on January 25th, 2018. Alice was a member of St. Matthew's United Methodist Church.
Alice was predeceased by her husband, Andrew D. Maritain, her beloved daughter (Gwendolyn D. Grant), son-in-law (Louis W. Grant), mother (Alice Hall Bowers), father (John Edward Bowers), and siblings (Catherine Darnell Selman, Jeanette Brewer, John Bowers and Elizabeth "Jibber" Banks).
Alice is survived by two grandchildren; Ryan Louis Grant (Julia) of Midlothian, VA, Kelly Lynn Stout (Chris) of Richardson, TX; five great-grandchildren, Tyler, Ashley, and Emily Grant; Preston and Brayden Stout, and many nieces and nephews.
The family wishes to thank all of those at St. Catherine's Village who took such great care of Alice for many years. Special thanks to Dr. George Patton and all the caregivers at Sienna Center.
A graveside service will be held on Monday, January 29th at 10am at Bayview Memorial Park in Pensacola, Florida.
In lieu of flowers, memorial donations may be made to the Alzheimers Association at www.alz.org/donate.