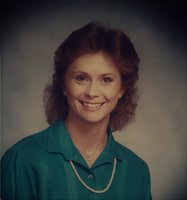 Nita L. McKissack
Mrs. Nita L. McKissack , age 56, of Brandon, Mississippi, formally of Madison, MS, was peacefully called home to be with our Lord after a long battle with cancer on January 27, 2018, surrounded by her family. Visitation will be held Tuesday, January 30, 2018 from 5-7 P.M. and Wednesday, January 31, 2018, from 2:00 -2:45 P.M. at Broadmoor Baptist Church. A Celebration of Life Service will be held Wednesday January 31, 2018 at Broadmoor Baptist Church at 3:00 P.M. with a private burial taking place following the service at Natchez Trace Memorial Park Cemetery.
Bro. Tommy Jarrett will officiate the service.
Nita was born February 1, 1961 to the Late Robert & Annie Jane Langston in Jackson, MS. She is preceded in passing by her parents.
Nita is survived by her loving husband of 29 years, Richard McKissack of Brandon, MS. One son, Richard Robert McKissack of Brandon, MS., two daughters, Michelle McKissack of Birmingham, AL., and Nicole McKissack of Brandon, MS., two sisters, Jan Langston Jackson Newland of Charlotte, NC, and Martha Young of Raymond, MS., two brothers, Bobby Langston and his wife Louanne of Raymond, MS., and Vernon Langston and his wife Tammy of Houston, TX.
Every person who met Nita was blessed to meet a fun-loving, high energy person who never stopped working on their behalf and loving them. Simply put, Nita loved people. No matter where they lived or who they were, she was all-in for them in everything that she did.
Nita's love for the Lord was evidently displayed not only in conversations, but in actions. Her desire to share his love to each person she met was engrained in her. She was highly active in each church which she attended whether it was Raymond Baptist where she accepted Jesus as her savior, Temple Baptist in Hattiesburg, First Baptist Jackson, Beaverdam Baptist Church in Virginia, or Broadmoor Baptist Church in Madison. She served as a Sunday School teacher, youth group leader, and/or some other leadership capacity in each church. Nita was also extremely passionate about Hope Hollow Ministries serving as its President in 2017.
Competition was a key part of Nita's fiery personality. She enjoyed playing basketball, tennis, and softball with her friends for many years and cheering on her alma mater the Southern Mississippi Golden Eagles with her family. She coached basketball, soccer, and softball youth teams wherever she lived. She particularly enjoyed watching her kids play sports. Whether it was Little League baseball, football, bowling, basketball, softball, travel soccer, State Championship high school soccer at Madison Central, or college soccer, Nita was in the stands actively cheering, organizing pre/post game parties, etc. for each of her kids' teams. She loved every player and coach on the teams she played for and was truly the ultimate soccer mom.
Every person who met Nita also knew that she loved her "work." She was hired by Southern Farm Bureau Life Insurance as a computer programmer right out of college. When she married Rick, she moved to Southern Farm Bureau Casualty Insurance Company as a programmer and manager. When the family moved to Beaverdam, Virginia, she found the job of her dreams – as a teacher. She started her teacher career as a substitute teacher at Beaverdam Elementary School, and continued when the family moved back to Mississippi at Madison Upper Elementary. She went back to college to get her teacher's degree in Math and taught at Madison Middle School until her death. She treasured each and every one of her students and her coworkers.
While Nita loved all people, the true passion in her life were her friends and family. She was a Daddy's girl and a Momma's woman. She cherished every moment she spent with her brothers and sisters. She was a devoted wife and best friend to Rick. She supported and loved him throughout their entire marriage – through the many good times and the very few bad times. Her children were the apples of her eye. If you wanted to get her to smile even when she was sick, ask her about Michelle, Nicole, and Richard. She would immediately perk up even more and start telling folks how proud she was of them. She dearly loved each of them unconditionally.
Death has no power over Nita's love for her family.
Her family would like to thank Dr. Paul Seago and his outstanding staff for all that they did for Nita during her illness. Dr. Seago, Melanie, Bethany, Harriet, and others showed their love for Nita by their kindness and tireless work for her and her family in an effort to cure her. They would also like to thank Dr. Paul Studdard and the many staff members who cared for her at St. Dominic's Hospital. The family will forever remember all that they did for Nita.
In lieu of flowers, memorials may be made to Hope Hollow Ministries, 910A Catlett Rd, Canton, MS 39046