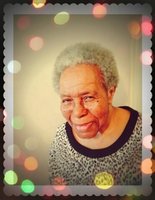 Maurine Smith Mason
Maurine Mason was born January 16, 1923 to the union of the late Ebarb "Bob" Smith and the late Essie Shepard Smith.
Maurine Mason grew up in Harpersville, MS in Scott County. She accepted Christ as her Lord and Savior at an early age. She attended and was a faithful member of Little Rock M. B. Church in Forest, MS. Later she joined St. Paul M. B. Church in Jackson, MS.
She married Sam Williams in Forest, MS, to this union there was a daughter, Eaxie Mae Williams Smith. Later in life she moved to Jackson, MS and married Harry Mason, to this union two sons were born, Robert Williams Sr. and Harry Williams Jr. and adopted a son, Benard Holmes.
Maurine lived a rich and fulfilled life. She loved to fish, work word search puzzles and her favorite pastime was watch the Chicago Cubs Baseball team.
Maurine was a devoted wife, mother, grandmother and aunt. Her doors were always open and welcoming to family and friends. She loved her family and her family loved her. She was a nurturing caregiver at home and on her job. She selflessly took care of all her family members in their time of need and illness.
Maurine was preceded in death by her parents, Ebarb and Essie Smith. Her sisters, Frances Ellsworth and Bessie Ray Wheeler. Her husbands, Sam Williams and Harry Mason. Her niece Helen McNairy.
Maurine leaves to cherish her memory her devoted daughter, Eaxie Mae Smith of Jackson, MS, her sons Robert Williams Sr. (Elaine) of Jackson, MS; Harry Williams Jr. of Birmingham, AL and Benard Holmes of Biloxi, MS. Her grandchildren, Jackie Smith Hampton (Steve) of Jackson, MS; Norland Smith Jr. of Pearl, MS; Yvette Smith of Jackson, MS; Natalie Smith Calvin (Fredrick) of Jackson, MS; Redic Smith (Lynn) of Murfreesboro, TN; Julian Lamont Smith of Jackson, MS; Lashunda Williams, Robert Williams Jr., Shannon McCune all from Augusta, GA; George Scruggs, Carlin Walker, Christina Williams, Tedrick Williams and Tenika Williams all from Birmingham, AL. A special niece Mary Frances Smith of Albuquerque, NM. She has 30 great-grandchildren, 14 great-great grandchildren, a host of nieces, nephews, other relatives and friends.