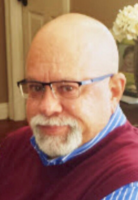 Bill Cline Smith
William "Bill" Cline Smith was born on September 29, 1949 in Brookhaven, Mississippi and was the son of Harold K. Smith and Mary Louise Farmer Smith.
Bill was big on the military and after high school enlisted in the United States Air Force where he served in the Vietnam War and later retired as with the rank of TSGT. He loved fishing, boating, reading and being a "World Traveler", enjoying his time in Jamaica, England, Thailand and many other places. He was a collector of anything musically related to the Beatles but the hobby he enjoyed the most was his passion for cars. He was a member of Mid Mississippi Mustang Club of America and owned many Mustangs throughout his life, restoring many of them himself. His latest toy is a 2010 Challenger with a license plate that reads "Popstoy". Pops is a nickname given to him by his grandchildren.
William is survived by his daughters and their spouses, Abby Lane Sahler and Steven of Madison, MS, Amy Louise Oliver and Aaron of Flora, MS; their mother, Paula Smith; brother, Ken Smith and Iris of GA; and grandchildren, Lane Peterson, Presleigh Peterson, Mary-Cline Peterson, Landon Oliver and Mattie Jane Oliver.
Bill is preceded in death by his parents and a brother, Brian Smith.
Mr. Smith passed away Sunday, December 9, 2018 after a brief fight against leukemia. He was 69 years of age. Visitation will be Wednesday December 12, 2018 at Natchez Trace Funeral Home in Madison and again Thursday one hour prior to the 11:00am chapel service. Interment will follow at Natchez Trace Memorial Park Cemetery with Military Honors. We ask that in Bill's memory, wear something Blue, as it was his favorite color.
In lieu of flowers, memorials in Bill's name may be made to the University of Mississippi Medical Center, Bone Marrow Transplant Unit.