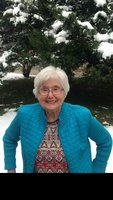 Treva Bridger
Treva Warden Bridger of Madison, Mississippi made the transition to heaven on December 12, 2018 at the age of 88, to join her beloved, Frank. Shortly after her birth on June 9, 1930 in Joplin, Missouri, she was adopted by Pearl and Charles Warden. Treva lived a full life as a loving wife, Mother, Grandma, Great Grandma, and friend.
At Joplin High School, she played the cello, was a member of the drum corps, and starred in several school dramas. She was voted most bashful, which is quite a surprise to her family.
Treva attended the University of Arkansas where she was in Delta Gamma. It was there, on a blind date, where she met the love of her life, Frank Bridger, a handsome Lambda Chi Alpha. Treva became Sweetheart of Lambda Chi Alpha in 1952, which was one of many honors she received in her life.
After her marriage to Frank, much of their lives was spent in Memphis, Tennessee. There she and Frank raised their 2 children in a"Leave it to Beaver" type family minus the pearls. Treva cheered from the sidelines, served as homeroom mother, carpooled kids for years, and supported her family in every way possible. For 9 years, she was a long-term substitute teacher at Overton and Briarcrest High Schools, where she utilized her English education degree.
In 1979, Treva and Frank moved to Madison, Mississippi for Frank's new job. She and Frank became members of Christ United Methodist Church where she became a member of UMW Circle 8 and served as a greeter. For ten years she participated in the "Tablescapes" event sponsored by UMW to fund missions. The tablescapes she created were made with love and were a source of pride and joy for her.
Perhaps her greatest enjoyment was being a member of the Traceland North Garden Club. In 1979, when she joined the garden club, she had no idea what an impact this organization and all the friends she made, would have on her life. Treva served in many officer positions and wrote the Traceland North Garden Club newsletter for 36 years. Her dedication and hard work in the garden club were recognized in a Proclamation by Mayor Mary Hawkins Butler.
In Madison, Treva made lifelong friends. She was a strong, creative, loyal, earring-making , bunko-playing friend to many.
We are grateful that she has been reunited with Frank after 26years.
Treva is survived by her children Leslie Lewis and husband Don of Spring, Texas; Frank Warden Bridger and his wife Susan of Memphis, Tennessee. She is also survived by 4 granddaughters, Allison Alford and husband Curt, Kristin Crouch and husband John, Malorie Carrigan and husband Neil and Madison Bridger. Treva was also blessed with 5 great grandchildren, Brooklyn, Colson, John Jr, Bridger, and Warden.
She was preceded in death by her husband Wylie Franklin Bridger Jr (Frank), her adoptive parents Pearl Doerge Warden and Charles Warden and her brother Burton Grenninger Warden.
The family wants to thank Treva's dear, dear friends in Madison for loving her. She was blessed beyond measure by these friends. Thank you also to Home Place where Treva spent 2 years. She loved the caregivers there and met new friends. Doctors Bruce Black and Leland Gebhardt also made an impact on her life. They seemed to care for her as if she were their mom. For the final weeks of her life, Treva came to Texas for rehab at Brookdale Willowbrook Place. Thank you for working with her. Finally thanks to Vitas Inpatient Hospice for making her last 3 days comfortable and pain free.
On Monday, December 17, friends and family are invited to Natchez Trace Funeral Home in Madison for a visitation from 9- 11 a.m. with a celebration of Treva's life following the visitation. Internment will be at Jessamine Cemetery after the service.
Memorial donations can be given to Home Place in memory of Treva.