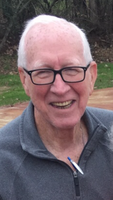 Larry Mitchell Moorehead
Larry Mitchell Moorehead, Sr. 76, passed away peacefully Saturday morning in his Madison home with his wife of 54 years, Marie, at his side. His family and friends are devastated and will miss him dearly but know he is still with us.
A visitation to pay your respects to the family of Larry Mitchell Moorehead will be held Wednesday, December 19, 2018 from 1-3 at Natchez Trace Funeral Home located at 759 Hwy 51, Madison, MS.
He was born in Smith County, MS and grew up on Tombigbee and Hiawatha Street in Jackson, MS with his well-respected brother, Jerry, and beloved sister, Sandra Moorehead Austin. He served with distinguishment and award in the Judge Advocate General Unit of The Mississippi Army Reserve. He met and married the love of his life, Marie, when he was 22. They were together every day until the end. Marie was the best thing that ever happened to him, and they demonstrated an everlasting love and commitment to one another.
Consistent with his steadfast character he began his career where he retired. He worked at Sperry Vickers which became Eaton Aerospace in the I.T. Department for 40 years. He was an active participant in the computer age. He loved technology and worked on computers from when they were the size of a house to the palm of your hand.
He loved his sons Larry Jr. (Vicki) and Bobby (Bridget) and his grandchildren Anna Kathryn, Cullen, Liam, Farrell, Sullivan, and Murphy. He never missed an opportunity to help his family - he lived for them. His favorite thing was attending events his family members were in. He never missed a performance; he never missed a game; he never missed a gathering; he never met a stranger. Dad loved to talk because he loved people. Everywhere he went he would look for someone new to meet and talk to. He had an awesome recall for facts, figures and dates, and his sense of humor made people comfortable, laugh and feel validated.
He leaves behind a well-loved spouse, sons and daughter-in-laws, grandchildren, nephews, nieces and cousins who all loved and respected him and were all enriched by his love and support. If every man could live a life as well as he did, the world would be a much better place.
Please- no flowers. In lieu of flowers, donations to St. Joseph Catholic High School Fine Arts and Athletic Department in his memory would be appreciated and considerate.