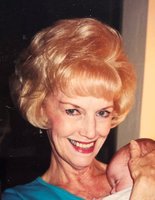 Shirley Stribling
On Saturday, December 15, 2018, Shirley Elmore Stribling, loving mother, grandmother and friend, passed away at the age of 83.
Shirley was born on November 12, 1935, in Winona, MS to Ella Mae and Marion Wilson Elmore. She graduated from Winona High School in 1953 and moved to Jackson where she worked in the oil and gas industry for over 40 years.
Shirley had a passion for cooking and entertaining family and friends. She was also known for her infectious smile and her kind and positive spirit. Shirley has always loved fashion and lived by the idea of life isn't perfect, but your outfit can be! To know her is to love her and we will cherish all of our funny Shirley stories. Shirley loved The Lord and was a member of First Baptist Church of Ridgeland.
Shirley was preceded in death by her parents Ella Mae and Bill Elmore. She is survived by her sister Ginger Jones (Kenneth) of Jackson, MS, children John Stribling (Katy) of Madison, MS and Stacey Hussey (Thomas) of Memphis, TN and her five grandchildren Alex Stribling, Charles Stribling, Hannah Hussey, Eliza Hussey, Lilly Hussey. A funeral service will be held on Friday, December 21st @ 1pm at the Natchez Trace Funeral Home. Donations can be made to First Baptist Church or a charity of your choice.