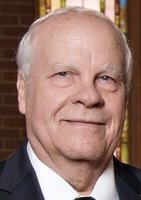 Raeburn Ward
Mr. Raeburn A Ward, was born in Neshoba County, Mississippi on August 24, 1937. He is the son of the late A. Z. Ward and Nancy Vaughan Ward. After high school, Raeburn joined the Mississippi Air National Guard before enlisting in the United States Coast Guard. He re-enlisted in the United States Air Force and is a Veteran of the Vietnam War. He served our country for more than 22 years before retiring from the Air Force as a Master Sergeant and was the Base Sergeant Major at Chanute Air Force Base in Champaign County, Illinois. He loved to read and go fishing whenever possible. He died Saturday December 29, 2018 at the age of 81.
Raeburn is survived by his loving spouse of 61 years, Frances Keene Ward; sons, Tim Ward and his wife Debbie, and James Ward and his wife Elise; sister, Nada Ward; brother, Buddy Ward; four grandchildren, Shaun Ward and his wife Michelle, Jarrod Ward and his wife Nichol, Rachel Dominico and her husband Josh and Rebecca Ward; four great grandchildren, Caleb Ward, Mason Ward, Jacob Ward and Norah Dominico.
In addition to his parents, Raeburn is also preceded in death by his brother Omar Ward.
Visitation will be held at Natchez Trace Funeral Home on Thursday January 3, 2019 from 1:00 until 2:00pm with a service to celebrate his life to follow at 2:00pm in the funeral home chapel. Interment with Military Honors will follow in Natchez Trace Memorial Park Cemetery.
In lieu of flowers, memorials in Raeburn's name may be made to The Wounded Warrior Project.