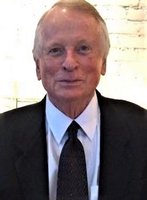 Charles F. Craig
Hold up two fingers if you've heard this story. It has been rumored that Charles Craig, architect, artist, sculptor, passed from this life into the next, surrounded by people he loved and who loved him right back on Saturday, January 5th at St. Dominic's Hospital in Jackson, MS.
In the first part of his life, Charles was an architect whose projects included the Sanderson Center at MS State University and buildings on the UMMC campus; in the second part, he was a sculptor and artist at his private studio and gallery. Whether your worldly status was high or low, there was no greater honor than to have been added to Charlie's list to receive a hand-drawn, limited edition Christmas card; it was a recognition of a connection he felt with you as a friend.
Charles was a man defined by a generous spirit for those he met.
Like any good Craig, Charles knew that critical decisions about what was for dinner should be discussed in depth while eating lunch. Charles could describe a meal in such detail that, if you had had the misfortune to miss it, you felt you had been deprived of a singular life experience, whether the meal he described was from the finest restaurant in New Orleans or was a can of beanie weenies served at home. However, no matter how many fine restaurants he dined in, he much preferred the gourmet meals created at home by his wife, Cathy.
He will be sorely missed by the entire well-fed hummingbird population of Echo Valley, MS as well as by a myriad of strangers who were entertained by his stories while standing in line at Duggan's Shrimp Truck, at airports between Jackson and Durango, CO or while he was holding court at Little Tokyo Restaurant on Thursday nights.
Also left to miss him are ladies everywhere with whom he flirted (especially the ladies in the choir at First Presbyterian Church), those related and not who called to ask for advice on home repair and questions of theological importance, and acquaintances for whom he would pay an occasional vet bill or provide a gift of art supplies to inspire them to "Go to the Studio and Make Something." He leaves behind fish in the Animas River who wish they had been caught and released by the Great Fly Fisherman of Echo Valley and who will tell tales at night of the wonderous adventures of Charles Craig on the river.
Charles is survived by his wife of 35 years, Cathrine Craig, his two children Brien (Gina) Craig and Nancy (Peter) Deliso, six grandchildren Lauren (Zach) Vedros, Sarah (Drew) Dygert, Rebekah Craig, and Michael, Laura and Virginia Deliso. He is also survived by his sister Nelle, sister-in-law Charity, her husband Bobby, and son Ryan Tutor, a host of nieces and nephews, a slew of friends and a few people who could only stand, scratch their heads and say, "well, who would've thought of that?"
A Visitation honoring Mr. Charles will be held Tuesday January 08, 2019 from 5-7 at Natchez Trace Funeral Home 759 Hwy 51 in Madison, MS
An additional visitation will be held Wednesday , January 09, 2019 at 10am at Natchez Trace Funeral Home with a Celebration of Life following at 11 am at Natchez Trace Funeral Home .
A Reception will follow at the First Presbyterian Church at 7717 Old Canton Rd, Madison, MS 39110
Rev. Bob Lane will officiate the service.
A Private Graveside will be held at a later date.
In lieu of flowers, donations to the Gateway Rescue Mission or to French Camp Academy would honor Charles's legacy and provide hope for those in need.