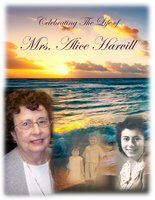 Alice P. Harvill
Alice Mae Parker Sumrall Harvill, age 93, of Ridgeland, passed away on January 9, 2019.
Mrs. Harvill was born on May 24, 1925 to the late William and Clara Rogers Parker in Laurel, MS. She lived in Mobile, Alabama for more than forty years and retired from the VA as a R.N. She was one of 3 to graduate in her class as a Registered Nurse. Alice moved to Ridgeland, MS in 2007. She was a fantastic cook and loved to entertain. A very gifted needle artist, she never wavered from her faith, though experienced many trials and tribulations during her 93 years in life.
Alice is survived by her daughter, Martha Langley (Jim); son, Doyle Sumrall (Mary Ellen); 6 grandchildren;n 11 great grandchildren; 2 great great grandchildren; sister, Mary Nell Hutto and brothers, Paul Parker and David Parker.
In addition to her parents, Alice is preceded in death by her husband, Autrey Harvill and brother, Bill Parker.
Visitation will be held at Natchez Trace Funeral Home Friday January 11, 2019 from 2:00 PM until 2:45PM with a graveside service to follow in Natchez Trace Memorial Park Cemetery at 3:00 PM.