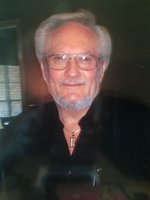 Larry T. Fortenberry
Larry Troy Fortenberry, 74, of Canton, passed away on January 9, 2019 at his home in Canton, MS.

He was born on December 26, 1944 to Troy and Syble Jackson Fortenberry in Carthage, MS. He attended school at Carthage High School before joining the US Navy where he was trained as a Navy Medic Corpsman and served with the US Marine Corps on the front lines during the Vietnam War where he sustained major wounds on two occasions. He was awarded the Purple Heart, two Bronze Stars, and many other medals for his bravery, none of which he would accept. He was discharged from the military with 100% disability due to his injuries and became one of the first in Mississippi to become a licensed Surgeon Physicians Assistant, a position held until retirement.

He was a member of numerous clubs including the VFW, American Legion, was Past Commander of the Moose Lodge and a member of the Mississippi Corvette Club.

Larry is survived by his loving spouse of 17 years, Shirley Fortenberry; daughter, Kristi Cameron; step daughter, Diane Yonkerrs; brother, Phillip Fortenberry (Thelma); two grandchildren; three step grandchildren; nephews, Phillip Fortenberry, II (Laurie) and Troy Clinton Fortenberry, II (Laci); nieces, Danielle West and Douglass Saletel (Mike) and cousins, Jack Jackson and Earl Jackson.
Visitation will be held Friday, January 11, 2019, from 6:00 pm - 8:00 pm at Natchez Trace Funeral Home with the funeral service on Saturday, January 12, 2019 at 2:00 pm in the funeral home chapel. Burial with Military Honors will follow the service in the Natchez Trace Memorial Park Cemetery.
Larry Fortenberry's Military Service
05-11-65: Joined the US Navy
Completed Boot Camp at San Diego & was sent to Navy Medical Corp School at Balboa Naval Hospital, also in San Diego.
Upon training completion, Larry was assigned to the Marine Base at Camp Lejeune, North Carolina for Field Medical Service School. Upon completion he was classified as 8404, Fleet Marine Force Medic.
05-16-66: Transferred to (TAD- Temporary Assigned Duty) 1st Battalion, 26th Marines, 3rd Marine Division, 9th Marine Amphibious Brigade (Yes, the Marine Corp is a Department of The US Navy)
Larry was stationed for training at Camp Las Pulgas, a Camp with-in Camp Pendleton, near Oceanside, Calif. The Marine Corp was initially attempting to form up the 5th Marine Division to send to Vietnam. The group was needed ASAP so they were shipped out as attachments to the 3rd Marine Division. And, for all the other Marines who have been trained at Camp Pendleton, Larry did go up "Sheep Sh-t Mountain".
07-08-66: Larry and the 3rd Marine Division departed for Vietnam on three ships: Iwo Jima, Vancouver and Thomaston. Larry was on the Iwo Jima (LPH-2) - a flat top amphibious assault ship loaded with Marines and helicopters.
The group made numerous assault operations by choppers before going in at DaNang and moving north, setting up a command station on "Hill-55". They made daily patrols, night ambushes and numerous "operations" off of Hill-55 before going further north.
Further, they conducted operations out of Phu Bai, Hue, Quang Tri, Con Thien, Dong Ha, Khe San, Camp Carroll area (known as The Rock Pile) and to the DMZ.
Larry did go through the "3 Gates To Hell" just south of the DMZ.
A lot of Marines were lost at this location. They were surrounded.
A "fire-for-effect" order was given and heavy artillery was received from the "St. Paul" firing from off shore. Air power dropped 250 and 500 lb. bombs along with napalm to repel the NVA. During this time, Larry was hurt and was medi-vaced to Phu-Bai and then to DaNang Naval Hospital. After discharge, Larry returned to his unit.
Some of the Combat Operations that Larry participated in are as follows:
Deckhouse 3 and 4
Prairie 1,2,3 and 4
Sterling
Cimarron
Shasta
Buffalo
Chinook
and Kingfisher
08-06-67: Larry returned stateside: assigned to VP-30 air wing at NAS, Jacksonville, Fla.
10-16-68: Assigned to VF-101 air wing at NAS, Key West, Fla.
05-09-69: Discharged to Naval Reserve Status for 2yrs.
Larry received the following decorations, medals, commendations and citations:
-National Defense Service Medal
-Vietnam Campaign Medal with 2 Bronze Stars
-Vietnam Service Medal with Fleet Marine Force Combat Insignia
-Presidential Unit Citation
-Good Conduct Medal
-Honorable Discharge May, 1971 with Rate of E-4