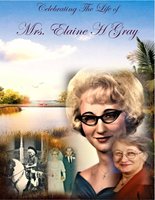 Elaine H Gray
Elaine H. Gray
Brandon, MS
Elaine H. Gray 73, of Brandon, MS was called home to be with the Lord and Saviour on January 12, 2019. A visitation honoring Mrs. Gray will be held Wednesday, January 16, 2019 from 6-8 P.M. at Natchez Trace Funeral Home in Madison, MS. A Celebration of Life service will be held Thursday, January 17, 2019 at 11:00 A.M. in the Natchez Trace Funeral Home. A visitation will be held one hour prior to the Celebration of Life Service. Graveside will be held at Canton City Cemetery in Canton, MS following the Celebration of Life service.
Elaine was born on December 07, 1945 in Laurel, MS to the late Linus Sieveking & Nettie Goff. She grew up in McClain, MS where she attended and graduated from McClain High School. She met the love her of life Gene Wilson Gray and have been married for 52 years. Elaine, and Gene were office managers for several different retirement homes for many years. In her spare time, she loved to knit, sew, tatting, crocheting, cross stitching and over the years she acquired quite a green thumb for the love of gardening. Most of all Elaine was a loving wife, mother, grandmother, and friend who loved the Lord, and her family with all her heart.
She is preceded in passing by her parents, and one sister, Ethel Hinton.
Elaine is survived by her loving husband of 52 years, Gene Wilson Gray, one son, Larry Wilson Gray and his wife Rubie of Florence, MS., one daughter, Rhonda Gray Walters and her husband Jerry of Michigan., 7 grandchildren, Clay Lynch, Matt Lynch, Andrew Gray, and Tracie Russell, Zachary Walters, Jacob Walters, Stephanie Walters, Amie Gray, and Cory Russell. 5 great grandchildren, Christopher Gray, Rubie Mae Gray, Axel Walters, Kannon Walters, and Kinsley Walters.
Dr. Darby Combs will officiate the Service