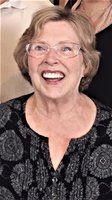 Sarah ""Sally"" Gandy
Sarah "Sally" Gandy
Canton, MS
Sally Gandy 71, of Canton, MS was called home to be with her Lord and Saviour on January 21, 2019 at her home.
A visitation honoring Mrs. Gandy will be held Friday, January 25, 2019 from 10-12:00 P.M. at Natchez Trace Funeral Home. A Celebration of Life Service will follow at 12:00 P.M. in Natchez Trace Funeral Home located at 759 Hwy 51 Madison, MS. Graveside will be held in the Natchez Trace Memorial Park Cemetery after the service.
Sally was born on June 15, 1947 in Lubbock, Texas to the late Calvin & Frances Lee. At a young age Sally and her family moved to Stafford, TX where she attended John Foster Dulles High School where she graduated in 1965 and met and married her high school sweetheart Dale Gandy. Shortly after high school Dale joined the Army and the two began their life traveling all over wherever the military sent him. After working for Honeywell Inc. for many years they transferred Dale to Madison, MS. Where they would finally make their permanent home. Sally was a stay-at-home mother who took care of all of her families needs. In her younger years she loved arts and crafts as well loving to travel. Sally was a Godly woman who never met a stranger. She was kind hearted and loved her MRA family. Most of all Sally loved her family with all her heart, and she adored her grandchildren and the precious time she had with all of them.
She is preceded in passing by her parents, Calvin Lee Sr. & Frances Leppard Lee., one brother, Tommy Gryder.
Sally is survived by her loving high school sweet heart of 52 years Dale Gandy Sr. of Canton, MS., three children, Laura Lee Gandy of Pasadena, CA., Bevo Gandy Jr., of Madison, MS., and Karine Gandy of Canton, MS., two brothers, Calvin Lee Jr. of Berryville, AR., Bobby Lee of Jacksonville, FL., six grandchildren, Kathryn Gandy, Hannah Gandy, Rhett Gandy, Sean Gandy, Reid Gandy, and Kayleigh Gandy all of Madison, MS.,
Bro. Eric Harmon will officiate the service.