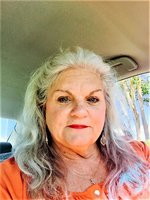 Sheree Lane Nelson
On January 29th, 2019, at 3:15 pm, Sheree Lane Nelson, née Pittman, moved from this world to the next to be forever with her Lord.
Sheree was a fireball with a huge personality, a dark (wonderful) sense of humor, and an enormous heart. She was an exemplary model of true selflessness. Her supreme example of silent sacrifice leaves a legacy of inspiration for all of us to think less of ourselves and more of others.
On December 17th, 2018, Sheree was diagnosed with an inoperable and very aggressive form of biliary cancer. It moved faster than anyone expected or could have guessed. She was a Christian believer and follower of Jesus Christ who possessed rock solid faith and now rests forevermore with her Heavenly Father whom she loved so much.
Sheree was born on May 11th, 1955, in Jackson, MS, to James and Elaine Pittman (deceased). She is lovingly remembered by two siblings: Margaret Owens, née Pittman, and James (Jim) Pittman, Jr.; one brother-in-law, Bidwell (Butch)Owens, Jr.; two sons: Levi Hill, and Jason Hill; a daughter-in-law, Princess Hill; and two granddaughters: Eden and Presley.
Services will be held at Natchez Trace Funeral Home in Madison, MS, on Friday, February 1st, 2019. Visitation will be from at 11:00 am to 1:00 pm. Service and burial will follow immediately afterward on site.