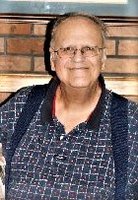 Paul Edward Hart
Paul Edward Hart 82, of Madison, MS. was called home to be with his Lord and Savior while surrounded by his wife and children at their home. He was born on October 11, 1936 to his parents, Mary Ryles Hart and Fred Hart in Brookhaven, MS. He was one of thirteen children, and all siblings had a very close relationship with one another. Paul graduated from Fair Oaks Springs High School in 1955. He went on take classes at University of Houston in Houston, TX. He also took night classes at Ms. State as well as Ole Miss. After college Paul decided to join the Army. He was active duty for 3 years in which he was apart of the Korean War in the medic unit. After fighting for our freedom, he was honorably discharged. He went on to work at Homen C. Porter Co. as well as MS. State Tax Commission. Paul eventually retired from MS. State Tax Commission office on April 26, 1996. Paul was a man of integrity, honor, and faith who loved his family with all his heart.
He is preceded in passing by his parents, Mary & Fred Hart., seven siblings, Frank Hart, Jessie Hart, Earl Hart, Harold Hart, Clayton Hart, Iva Ruth Davis, and Verna Tucker.
Paul is survived by his loving wife of 57 years, Helen Coleman Hart, two sons, Ricky Dale Hart, and Rex Merrill Hart and his wife Heather., two brothers, Joe Hart, and Jerry Hart and his wife Neeta, two sisters, Mary Smith and her husband James, and Sarah Miller, one granddaughter, Mandy Richell, two grandsons, Dustin Langley, and Dylan Cole Hart.
On behalf Mr. Paul and family, there will not be a public visitation or service.
A Private family gathering will be taking place at a later date.