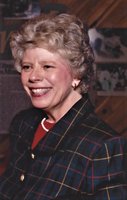 Anne Marie Hewitt
Mrs. Anne Marie Hewitt
Ridgeland, MS
Mrs. Anne Marie Hewitt,77 of Ridgeland, MS was called home to be with her Lord and Savior on January 31, 2019.
A Visitation honoring Mrs. Hewitt will take place Monday, Feb 4, 2019 from 1- 2:00 P.M. at Natchez Trace Funeral Home. A Celebration of Life Service will follow at 2 :00 P.M. in the Natchez Trace Funeral Home. Graveside will follow immediately in the Natchez Trace Memorial Park Cemetery located at 759 Hwy 51, Madison, MS.
Anne was born on October 07, 1941 in Shreveport, Louisiana to the late Joseph & Josie Mendell. She graduated from Murrah High School in 1959. Anne went on to attend Millsaps College where she earned a bachelor's degree in Latin. She taught for many years at Manhattan Academy, Woodland Hills Academy, and spent a substantial amount of time substitute teaching at Jackson Prep before retiring. Anne was an avid historian and extensively researched her own family lineage. She was a member of many organizations that revolved around the history of MS including, UNITED DAUGHTERS OF THE CONFEDERACY, FIRST FAMILIES OF MS, MS STATE SOCIETY DAUGHTERS OF 1812, MS GENEOLOGICAL SOCIETY, FORT ROSALIE CHAPTER OF NSDAR, COLONIAL DAMES, MS SOCIETY OF SOUTHERN DAMES. She was also a member of the MS CLAIMS ASSOCIATION AUXILLARY. Most of all Mrs. Anne was a loving wife who loved her children unconditionally, and she cherished her grandchildren, and the time she had watching them grow into the wonderful people they are today.
She is preceded in passing by her parents, Joseph Warren Mendell, and Josie Winters Mendell, and one son-in-law, Nathan Doss.
Anne is survived by the love of her life Robert L. Hewitt of 53 years in Ridgeland, MS., two daughters, Candace Doss of Mt. Laurel, NJ., and Elizabeth Colley and her husband Andrew of Crownsville, MD., three sisters, Margaret Thompson, Linda Denny and Yvonne Young, four grandchildren, Christopher Doss, Jennifer Doss, Aaron Colley, and Rebecca Colley.