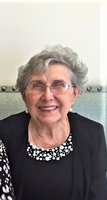 Joyce Honea
Joyce Thompson Honea, born March 11, 1934, passed away February 10th, 2019 losing a battle with Alzheimer's. Funeral services are scheduled for 11:00 am, Wednesday February 13, at Natchez Trace Funeral Home with visitation from 9-11 preceding the service. Interment will be at Lakewood Memorial Cemetery.
Anyone who knew Mrs. Honea knew how much she loved her friends, her family, First Baptist Church Madison, Hope Sunday School Class and her grands. She was smart, funny, loved to talk and never met a stranger. She was a native of Hazlehurst, MS graduating from Co-Lin Community College, moved to Jackson which was home until moving to Madison, which she called home for over 30 years. She was a very talented seamstress having a children's store, Hugs and Kisses, with her daughter Karen Skeen making custom christening gowns, flower girl dresses and special occasion outfits. She had worked over a decade with Standard Life Insurance Company and after loved her quilting, crocheting and embroidery clubs.
Mrs. Honea was preceded in death by her loving husband of 59 years, Morris Reginald (Sonny) Honea. She was also preceded in death by her parents, Walter and Irene Thompson, sisters Sarah Gene Brown, Linda Smith, Louise Hux, Cheryl Rabalis and brother Glenn Thompson.
Mrs. Honea is survived by her daughters, Debra (Sam) Naquin, Karen (Ricky) Skeen and Lori
(Chris) Barnhart. She leaves behind eight grandchildren: Ashley (Molly) Wilson, Meagan Skeen, Wesley Brisendine, Kayla (Chad) Matthews, Anna (Justin) Sypult, Emily Skeen, Kevin Hollingsworth and Amber Hollingsworth.
Those wishing to honor Joyce's memory may do so through donations to Alzheimer's Association (Alz.org).