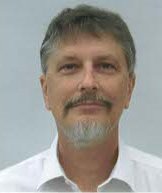 John Novick
John Andre Novick, 62, of Brandon, Mississippi, succumbed to cancer in the comfort of his own home surrounded by his wife, daughter and close friends on February 20, 2019.
John was born on April 18, 1956, in Newark, New Jersey, to Anthony and Victoria Novick, who preceded him in death. He grew up riding his bicycle all over town with never a care in the world, free to explore creeks, trails and neighborhoods he had never seen before. At seventeen, John's dad gifted him with his first car—sky blue, his favorite color. He loved to explore the state of New Jersey, taking a different path each time. This love of exploring "off-the-beaten paths" eventually extended to the rest of the country, including Mississippi, where he settled in 1983. John's years of pastoral ministry to five Mississippi churches in the denomination of Grace Communion International allowed him to continue exploring the state. He knew more back roads than most native Mississippians.
Sports was a love of his from an early age. He talked often of watching the Green Bay Packers football team with his father. John loved basketball, playing from the time he got out of school until it was too dark to see. He went on to coach church basketball teams and play pick-up games with his daughter in their driveway.
John's greatest love was his love for God—Father, Son and Holy Spirit. Even though he grew up in a family who put little emphasis on their relationship with God, John knew the Lord at an early age. In his latter years, his relationship with God further deepened through his fellowship with his Tuesday men's small group and Odyssey in Christ, a spiritual retreat ministry.
John is survived by his wife, Cathy; daughter, Briana; brother, Anthony; father- and mother-in-law, Jim and Pat Taylor; brothers- and sisters-in-laws, Rick (Vicki) Taylor, Greg (Wynn) Taylor, and Alan (Natasha) Taylor; nephews, Skye Taylor, Alex Taylor and Archer Taylor; nieces, Kristen Taylor and Sasha Taylor; and many friends who will miss him dearly.
Visitation will start at 12 PM with a Celebration of Life Service following at 1:00 PM, Saturday, March 2 at Pinelake Church, 6071 Highway 25, Brandon, MS 39047. In lieu of flowers, donations may be made to AsiAfrica Ministries, Inc., P.O. Box 5663, Brandon, MS 39047; Odyssey in Christ, Inc., 309 New Orleans Blvd., Morganton, NC 28655; or Perichoresis, Inc., P.O. Box 98157, Jackson, MS 39298.