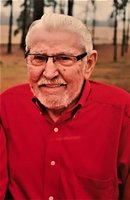 William Jack Smith
William Jack Smith
Florence, MS
William Jack Smith 83, of Florence, MS was called home to be with his Lord and Savior on February 23, 2019. While surrounded by his family. A visitation honoring Mr. Smith will be held Tuesday, February 26, 2019 from 5-7 P.M. at Natchez Trace Funeral Home in Madison, MS. A Celebration of Life service will be held Wednesday at 11A.M. at Natchez Trace Funeral Home with an hour visitation prior to service time. Burial will take place in Carthage, MS at the Pleasant Grove Cemetery at 2:00 P.M.
William was born on June 6, 1935 to the late John & Sudie Smith in West, MS. He graduated from West High School. He married the love of his life on March 09, 1957 to Mary Moudy Smith of 63 years. William has five wonderful children. He has always been a strong hard working man that provided for his family. This man loved everyone, he never met a stranger, and would give anyone the shirt off his back. He was an avid outdoorsman who loved boating, fishing and hunting. He loved being surrounded by his family while cooking out, watching football, and his western movies. After retiring from Smith Marines he loved being in his garden, sitting on the porch watching squirrles with his dog snoopy.
He is preceded in passing by his parents, John & Sudie Pugh Smith, one daughter Vickie Marlene Smith, two sisters, Mary Rosamond and Johnnie Westerfield, and one brother, John Basil Smith.
He is survived by the love of his life of 63 years Mary Moudy Smith of Florence, MS.; two sons, Jackie Dwayne Smith and his wife Brenda of Florence, MS., and Buddy Smith and his wife Jill of Brandon, MS.; two daughters, Melissa McElroy and her husband Ronnie of Florence, MS., Shelia Westerfield and her husband Carl of Puckett, MS, Jeanette Randazz and her husband Randy of Picayune, MS. 13 Grandchildren, Felicia Holbrook and her husband Bill of Puckett, MS., Chad Smith and his wife Linsey of Gluckstadt, MS., Chris Thompson and his wife Jennifer of Kailua, HI., Steven Westerfield and his wife Tiffany of Florence, MS., Anthony Thompson and his wife Holly of Brandon, MS., Ronnie McElroy and his wife Lacey of Flora, MS., Joseph Smith and his wife Katherine of Madison, MS., Brandie Davis and her husband Michael of Richland, MS., Joshua Smith and his wife Samantha of Brandon, MS., Jeremy McElroy and his wife Savannah of Florence, MS., Christian Mocco and her husband Ionwayne of New Caney, TX., Taylor Smith of Brandon, MS., and Jordyn Smith of Brandon, MS.; 20 Great Grandchildren, Jessie Moore, Cody Smith, Dillon Moore, Jody Smith and his wife Katelynn, Payten Stewart, Joseph Gage Smith, Harley Dabbs, Keelie Smith, Journee Thompson, Bentleigh McElroy, Stella Thompson, Eva Thompson, Adilynn Westerfield, Parker McElroy, Crosby Thompson, Presley McElroy, Jaclynn Thompson, Piper McElroy, Fletcher Davis, Everlee Westerfield; One great great grandchild, Paisley Grace Smith.