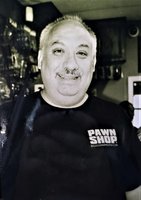 Charles Ponthieux
Charles David Ponthieux Sr.
Madison, Mississippi
Mr. Charles "Chuck" David Ponthieux Sr., born in New Orleans, LA on January 6, 1967, He was called home to be with his Lord and Savior on Friday, February 22, 2019 at the age of 52. Visitation will be held from 5-7 PM with services to follow on Wednesday, February 27 at Natchez Trace Funeral Home in Madison, Mississippi on 759 Highway 51.
Mr. Ponthieux was a family man. He loved his wife of 33 years, his three children, and his two grandchildren. While he had a fun-loving personality, he enjoyed relaxing by the fire, frequent trips to Kroger, and watching TV. He spent his days off with his one true love, his wife or fishing. He was loved by everyone who knew him because of his generosity and his genuine compassion for others.
He is preceded in passing by his mother, Virginia Tucker, his father, Elster Ponthieux, and his brother, Eddie Ponthieux.
He is survived by his loving wife, Rebecca Ponthieux, his children Virginia Ponthieux, Emilie McEachern (Justin), Charles Ponthieux Jr. (Deidra), and his grandchildren Emma Gayle Ponthieux and Luke McEachern.