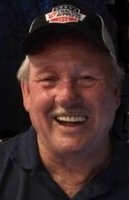 Frank Wisnoski
Frank F. Wisnoski (THE ONE AND ONLY) of Jackson, passed away on February 27, 2019 at UMC in Jackson, MS.
He was born on July 1, 1943 to Frank and Angela Stegent Wisnoski in Houston TX. Frank joined the US Army and was stationed in Ft. Smith, Arkansas where he was introduced to Jean Davidson, who became the love of his life. They married soon after and moved to Texas. They moved to Mississippi in 1966 where he worked until retirement for Sperry Vickers in Jackson. After retirement he founded Frank's Carpet Service, which he operated for the next 14 years. He was an avid hunter, golfer, occasional fisherman and NASCAR fan.
He was a parishioner of St. Francis of Assisi Catholic Church in Madison.
Frank is survived by Two Sons, Kevin Wisnoski (Melinda) of Canton, MS, Joseph Wisnoski (Lori) of Clinton, MS; Daughter, Kym Craft (Jerry) of Springfield, MO; Seven Grandchildren, Kyle Wisnoski, Carley Craft, Mason Wisnoski, Cody Wisnoski, Kayla Craft, Vic Caracci and Amber Clark, his Brother, Ted Wisnoski (Kaye) of Houston, TX, numerous nieces, nephews, and many, many friends.
He was preceded in death by his wife of 49 years, Jean Wisnoski, his parents, sister - Cathy Ramos, brothers - Leonard Wisnoski and David Wisnoski.
Visitation will be held Friday, March 1, 2019, 5:00 pm - 7:00 pm at Natchez Trace Funeral Home with a graveside service to be held on Saturday, March 2, 2019 at 11:00 am at Jessamine Cemetery, Ridgeland, MS.