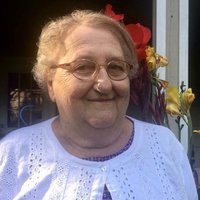 Jennie Juanita Jenkins
Juanita Jenkins
Madison - Jennie Juanita Johnson Jenkins, 81, of Madison, passed away on March 12, 2019, at Baptist Hospital in Jackson, MS. Juanita was born on April 28, 1937, to Edwin T. and Nettie Lee (Jackson) Johnson of Kosciusko, MS.
Juanita never met a stranger, and she touched so many people's lives over the years. Her dedication, both personally and professionally, was a hallmark of her personality.
She was dedicated to making her customers at Crechale's Restaurant in Jackson, MS feel like part of her family for 43 years. She was dedicated to enjoying the simple things in life like sitting on her porch, enjoying home cooked food, admiring her plants, and making $20 last for 4 hours on a penny slot. Most importantly, she was dedicated to loving her family, and teaching her children and grandchildren the lessons, recipes, and love she'd learned throughout her life.
Juanita was preceded in death by her Husband of 43 years, Walter Jenkins, Jr.; Father, Edwin T Johnson; Mother, Nettie L Johnson; Brother, Tommie J Johnson; Sons, Ivy Owen Jenkins and William T "Tom" Jenkins; Daughter, Rhonda L Jenkins; as well as Grandsons, William Thomas "TJ" Jenkins and Michael E Tyson.
She is survived by her children: Serita J Tyson, Gladys L Jenkins and Kenneth D (Aimee) Jenkins; her grandchildren: Misty A Jenkins, Thomas M (Mallory) Tyson, Mandy A Jenkins, and Jennie J Jenkins; as well as eight (8) great grandchildren.
Visitation will be on Friday, March 15, 2019 from 5:00 pm until 7:00 pm at Natchez Trace Funeral Home in Madison, MS. The funeral service will be held on Saturday, March 16, 2019 at 11:00 am at Natchez Trace Funeral Home followed by a graveside service at 1:00 pm at Quiet Ridge Cemetery in Pickens, MS.