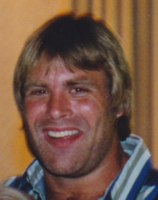 David Thompson
David Thomas Thompson
David Thomas Thompson, 53, was called home to be with his Lord and Savior on March 18, 2019. He was born to Andrea Thompson and the late Richard Thompson in New Orleans, LA.
Dave mastered skills in carpentry, woodworking & helped build many homes & businesses throughout Mississippi & beyond. His passion for animals & helping others as well as his delicious cooking skills on the grill will be missed. David, your laughter will forever be embedded in our hearts & on our minds until we meet again; our dear son, brother, cousin & friend.
David joined loved ones: Richard L Thompson, Judith Malzahn & Grandma Lou.
David is survived by Andrea Thompson; Richard Thompson & Jeff Thompson; Monique Hester; Fred Malzahn, Butch Rice & all their loving families.
The family celebrated David's life in a private family gathering, the way David would have wanted with loved ones sharing stories, LOL moments, delicious food & love.