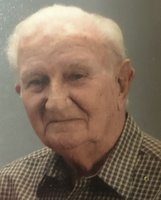 Louie Luke
Louie Wilton Luke, 86, died peacefully at Hospice Ministries on April 23, 2019 from complications of Lewy Body Dementia.
Louie was born on September 8, 1932 in Philadelphia, MS in the Longino Community of Neshoba County. He was a resident of Jackson since 1957 where he was employed at Vickers/Eaton as a production supervisor until he became plant manager of Magna American, Inc. in Raymond, MS. He was a long time member of the former Briarwood Drive Baptist Church and recently became a member of First Baptist Church in Madison. He was a 32nd Degree Mason and a Life Member of Wood Acres Hunting Club.
He was predeceased by his parents, Everett and Clara Barnes Luke and brothers Jack and Lewis Luke. He is survived by his wife of 67 years, Hattie Daniels Luke of Jackson, a son Aubrey Wilton Luke (Mary Beth) of Madison, MS, daughters Deborah Luke Mikell (Ted) of Oak Point, TX and Balinda Luke Black (David) of Madison, MS, 6 grandchildren and 4 great grandchildren.
Visitation will be held at Natchez Trace Funeral Home on Friday April 26, 2019 from 2:00 until the 3:00pm service in the funeral home chapel. Burial will follow in Jessamine Cemetery.
Memorials may be made in his name to the church or charity of your choice.