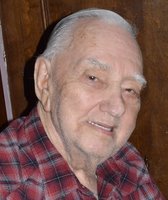 Charles W. Feyh, Jr.
Charles W. Feyh, Jr. passed away at home on May 4, 2019 peacefully in his sleep at the age of 89.
He was born in Oceanside, N.Y. on March 5, 1930. He enlisted in the Air Force in December 1951 during the Korean Conflict. He married Sybil Geraldine Presley (Geri) of Canton, MS on April 26, 1952. They had a blessed 67 years of marriage.
Mr. Feyh worked with the Boyscouts for 31 years and earned the Silver Beaver Award. He was President for 6 years for Metropolitan Divison Train Collector Association (METCA) and a Lifetime Member of the United States Auto Club (USAC). Home heating and air was his trade and he was a member of Teamsters 553. He enjoyed traveling, fishing, anything to do with trains or racing. He moved to Mississippi in March 1996 as he came here all those years before.
Charles is survived by his wife Sybil "Geri", his three sons; William "Billy" (Becky), Robert "Bobby" and Barry (Carol); 8 grandchildren and 12 great grandchildren.
Visitation will be Wednesday May 8, 2019 from 5-8pm at Natchez Trace Funeral Home and again one hour prior to the chapel funeral service on Thursday at 1:00pm. Interment will follow in Natchez Trace Memorial Park Cemetery with Military Honors.