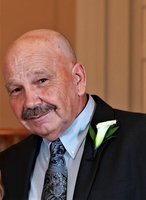 Allen Stanley
Allen Waits Stanley, 67, passed away Monday, May 6, 2019, at Select Specialty Hospital in Jackson. In 1969, he graduated from Murrah High School and attended Hinds Community College, Mississippi State University, and the University of Southern Mississippi.
Visitation is scheduled 6-8 pm on Thursday, May 9th, at Natchez Trace Funeral Home 759 Hwy 51 Madison, MS 39110. Funeral services are scheduled at the same location 11:00 am Friday May 10th, concluded by interment in Natchez Trace Memorial Park Cemetery.
Allen is survived by his mother, Agnes Waits Stanley; his daughter and son-in-law Angela and Andrew Sanders; his son Allen (AJ) Stanley Jr.; and the children of his brother, Lewis Stanley (d. 2010), niece Christy Dorsey (and her daughters Brittany Noél, Joy Nicole and Natalie Grace) and nephew, John Stanley (and his son, Myles).
In lieu of flowers, the family requests memorial gifts to Season's Assisted Living, 1421b E. Peace St. Canton, MS 39046.