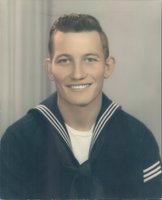 Daniel Warren Walters
Daniel Warren Walters passed peacefully away on May 10, 2019, at his home surrounded by family and friends.
Dan was born in Lumberton, Mississippi on June 16, 1931, the son of Joseph Warren Walters and Hattie Lula Bond Walters. He grew up in Canton, Mississippi and graduated from Canton High School. He received an Associates Degree from Hinds Junior College where he was a member of Phi Theta Kappa. He received a Bachelor of Science in Business Administration from Mississippi College. He served in the U. S. Navy on board USS Wiltsie DD 716. After his honorable discharge from military service he married Jeannine Burnham to whom he was happily married for 62 years.
Dan was employed with Presto Manufacturing Company as a Cost Accountant for thirteen years. He was Secretary/Treasurer for Knowles Materials Company where he retired after seventeen years. He then worked as an accountant for the Mississippi Tax Commission and Department of Human Services where he retired for the second time.
Since 1962 Dan was a faithful member of Ridgecrest Baptist Church where he served as a Deacon, Youth Chaperone and Counselor, R.A. Leader and numerous other positions. He and his wife served in whatever capacity was needed in their church whenever called upon. They were active members of Ridgecrest's Senior Adults and enjoyed many travels with the seniors group. He was always ready to go on any adventure. Dan was also a loyal member of the Madison McDonald's Coffee Club while his health permitted. Dan enjoyed spending time with his sons, duck hunting and fishing. He coached his sons minor league and little league baseball teams. He was an Ole Miss Rebel through and through, and every Saturday during football season, he would be attending or watching Ole Miss games. Dan loved roses, and he grew some lovely roses that he would distribute to all the ladies on the staff of Ridgecrest .
Dan was preceded in death by his parents, his in-laws, Auburn and Odell Burnham, his sisters, Claudia (Buddy) Mott and Myrt (J.B.) McCullough, his two sons, Danny Walters and David Walters, and his brother-in-law, Billy Ray Burnham. He is survived by his wife, Jeannine B. Walters, his sisters-in-law, Bonny (Waymon) Tigrett, Sylvia Burnham and Linda Burnham, and his many nieces and nephews. Dan will be dearly missed by all his family and friends.
In lieu of flowers, memorials may be made to Ridgecrest Baptist Church, Music Ministry Fund, 7469 Old Canton Road, Madison, Mississippi 39110 or the charity of your choice.
Visitation will be held at Ridgecrest Baptist Church on Monday, May 13, 2019 from 12:30 p.m. to 2:00 p.m. Services will begin at 2:00 p.m. also at Ridgecrest Baptist Church. Burial services will follow at Lakewood Memorial Park, Jackson, Mississippi.