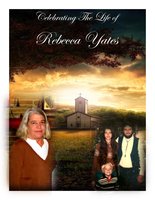 Rebecca Yates
Rebecca Yates
Brandon, MS
Rebecca Yates 62 of Brandon, MS was called home to be with her Lord and Savior on May 13, 2019. A Family and Friend Gathering honoring Mrs. Yates will be held Thursday, May 16, 2019 from 4-5 at Natchez Trace Funeral Home. A graveside service will be held at 3PM on Friday, May 17, 2019 at Natchez Trace Memorial Park Cemetery all services will be located at 759 Hwy 51 Madison, MS 39110.
Rebecca Rehfeldt Yates was born August 02, 1956 to William Rehfeldt & Jean Howie in Jackson, MS. She attended and graduated from Murrah High School. Shortly after graduating she met the love of her life. The late Robert Christopher Yates. Mrs. Rebecca was a Godly woman who worked for Trustmark Bank for many years as a Supervisor until her health would not allow her to continue. In her spare time, she was an avid reader, above all else she loved her husband, her son and her caregiver who was like a daughter to her, Allen's wife Elizabeth Yates, and most of all her grandchildren and great grandchildren. She was the type of women who do or give anything for the greater good of her family or friends. She did not mind giving anyone a piece of her mind if her opinion was asked. She was a loving mother, grandmother, sister and overall caretaker for her family in the worst of times.
She is preceded in passing of her parents, and her loving husband of 42 years, Robert Christopher Yates.
Rebecca is survived by her loving, special son, Michael Allen Yates, and his wife Elizabeth of Brandon, MS., three sisters, Gayle Humphrey of Brandon, MS., Marcie Minyard and her husband Wayne of Ridgeland, MS., DeEtte Brace of Pearl, MS, one brother, Richard Rehfeldt and his wife Kim of Madison, MS., three loving grandchildren, and three special great grandchildren.