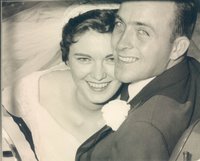 Mildred Lauve Jordan
Mildred Lauve Jordan
Mildred Lauve Jordan died early on the morning of June 4th, 2019 at St. Catherine's Village after a lengthy illness. Her life will be celebrated at St. Richard Catholic Church in Jackson, MS on Monday, June 10th at 2:00pm with visitation beginning at 1:00pm.
A native of New Orleans, LA, Mildred was born on August 4, 1936 to the late James Evariste Lauve and Merle Mayhall Lauve. The Lauve family moved to Jackson in the early 1950's where Mildred attended St. Joseph Catholic High School.
On June 16, 1956 Mildred married Harvey L. Jordan Jr. in Jackson in the original church building of St. Richards Catholic Church. Mildred later became a founding member of St. Therese Catholic Church where she served in a variety of volunteer capacities at the church and school for many years. She was most recently a proud member of St. Paul Catholic Church in Flowood. Mildred made sure that she and her children never missed Mass on Sundays or Holy Days.
With her three children in high school, Mildred went back to school and earned her BS in education from Mississippi College. Upon graduation, she became a teacher at her beloved home parish of St. Therese. As an elementary school teacher, she strived to instill the spirit of learning in the students entrusted to her care over the years.
Mildred was blessed with many talents. She had a great love of all things related to flowers and gardening and she had an extraordinary green thumb. After many years of nurturing beautiful gardens and yards, she pursued and earned her master gardener certification. Mildred also was a skilled seamstress with high standards. She paid much attention to detail when sewing and knitting things that are cherished by family and friends. Mildred had a great love for all kinds of fishing. She was fiercely competitive in her attempts to catch not only the most fish but also the biggest fish of anyone else in the boat.
Mildred is preceded in death by her husband of 59 years, Harvey L. Jordan, her beloved granddaughter Jenna Jordan, her brother John Lauve and and her parents Jimmy and Merle Lauve. She is survived by her children, grand children and great grandchildren: Michael Jordan, his wife Shannon of Hammond, LA and their children Amanda of Hammond, LA, and Andrew of San Francisco, CA; Helen Jordan Shirley and her husband Steve of Madison, MS and their children Daniel, his wife Caitlin and their children Lark, Noel and Beck of Greenville, NC, John of New Orleans, LA, Joseph of Los Angeles, CA, and David of New Orleans, LA; Matt Jordan and his wife Debbie of New Orleans, LA and their daughter Jill of New Orleans, LA. Mildred is also survived by five siblings and numerous nieces and nephews.
The family would like to thank the wonderful caregivers and staff of St. Catherine's Village, Campbell Cove who lovingly and tirelessly cared for "Mrs. Jordan" in her last years. We will carry these special people in our hearts forever.
Memorials may be made in Mildred's name to St. Paul Catholic Church, 5971 Highway 25, Flowood, MS 39232 or to the Alzheimer's Association, P.O. Box 96011, Washington, DC 20090-6011