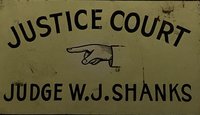 Judge William J. Shanks
William James Shanks, II, known to friends as "Judge," passed away with his wife and daughter by his side on June 7, 2019 at the age of 70.
Judge Shanks a lifelong Madison County resident attended Mississippi State University and then became the youngest serving judge in the state when he won the election at the age of 26. During his 20 plus years serving as Madison County Justice Court Judge he also ventured into becoming a home builder and developer. He had a very successful 30 plus years in real estate, along with mentoring and inspiring other people in the real estate industry.
Bill served as an active board member for Mississippi Home Corporation, former real estate Broker and member of Mississippi Home Builders Association. He was also a member of First Baptist Church of Madison.
His interests included family, hunting, gardening and tending to his farm. His biggest hobby became his dear granddaughter Lily. They enjoyed raising and caring for all their animals. They were always together getting into something or had a project going on the farm.
Bill is survived by his wife of 49 years, Donna Y. Shanks, daughter, Parrish Shanks Malouf and her husband Justin; and grandchildren, Lily Marie Malouf, Mary Betty Malouf and Son-in-Law, Matthew Olson.
He is preceded in death by his daughter, Mary Diedrich Shanks Olson; parents, Claude Henry Shanks and Betty Diedrich Shanks; and brother, Claude Henry Shanks, Jr.
A Celebration of The Judge's life will be held at 9-12, on Tuesday June 11, at The Natchez Trace Funeral Home. Service to follow with Pastor, Dr. Ronnie Falvey officiating.

In lieu of flowers, memorials in his name may be made to the Palmer Home for Children, P.O. Box 746 Columbus, MS 39703.