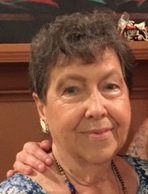 Janet Weimer
Janet Weimer, 82, of Jackson, passed away on July 6, 2019.
Janet was born on April 29, 1937 to the late Charles and Ann Weimer in Brush, Colorado.She grew up in Fort Morgan, Colorado and attended the University of Northern Colorado. She moved to Corpus Christi, TX in 1960, returning to Colorado to care for family. She later moved to Hilton Head, S.C. where remained for 10 years. Much of her career was in Early Childhood Development. She also enjoyed a career as a political consultant. After retirement she moved to Brandon, MS and volunteered with Compassus Hospice. She was a member of St. Marks United Methodist Church and volunteered whenever needed to help her church, church family and community.
Janet is survived by three Sons, Michael Norton (Lori), Geoffrey Norton (Alahna) and Todd Norton and one grandchild, Brynn Ann Norton.
A memorial service will be conducted at St. Marks United Methodist Church, 400 Grants Ferry Rd, Brandon, MS 39047 on Friday July 12, 2019 at 11:00am. Visitation will be from 9:00am until time of service.
In lieu of flowers, memorials in her name may be made to St. Marks United Methodist Church Youth Fund Program.